Toronto race puts neighbourhoods first
October 1, 2009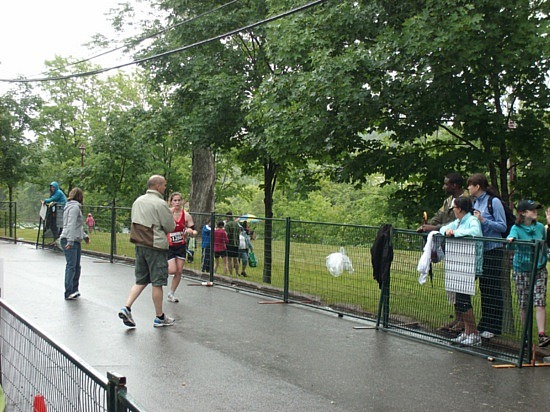 A marathon doesn't just smell like a convention of old sneakers.
The real treat for the nostrils comes from the communities the marathon winds through – and no city is richer for the nose than Toronto, says Alan Brookes, director of the Scotiabank Toronto Waterfront Marathon.
"Big-city marathons have to be part of the community, part of what defines the city," Brookes says.
On Sunday, the 20th renewal of the race defines Canada's largest city by trekking through the scents and sounds of scores of neighbourhoods and ethnic enclaves, in addition to taking over the water's edge.
"There will be almost 20,000 people involved in this year's runs – including the 5K and half marathon," Brookes said in an interview.
The race is gaining in favour – and flavour – and overcoming the city's reputation as a town that is not friendly to marathons. Drivers sneer at the inconvenience of road blockages. Little by little, Brookes says, Torontonians are being won over and so are runners.
The big draw is the course, which begins and ends at City Hall and basically follows the Lake Ontario shoreline. It has a reputation for being flat and fast. This year, to alleviate the tedium of the asphalt, there will be bands and cultural performances every two kilometres, from Ukrainian and Cossack dancers, to a Chinese Lion dance, to Indian bhangra to Latin American drummers. There are no fewer than 17 stations for first aid and water – and portable toilet facilities.
The big change this fall is that there will no longer be a lonely stretch out and back across the Leslie Spit, Brookes notes. Instead of that "windblown wasteland" part of the run, there will be more running along Toronto's eastern beach neighbourhoods, and the marathon course will steer the runners through the Cabbagetown, Distillery and St. Lawrence Market districts.
"What defines T.O.? Our ethnic neighbourhoods, being a Waterfront-Great Lakes city, plus events like Caribana, the international film festival, the arts festival Luminato, and this marathon," Brookes said. "… We're not there yet, but we're getting there as an emerging, small, world-class city. There will be a new course through key neighbourhoods, community challenges, and a charity challenge."
The field will include runners of both the elite and everyman classes. Defending champion Kenneth Mungara will return to Toronto. He edged fellow Kenyan Peter Kiprotich to take the 2008 title in 2 hours 11 minutes 1 second. He then went on to post a personal best time of 2:10:29 at the Prague Marathon in May.
Mulu Seboka of Ethiopia, women's defending champion, set a women's course record last fall at 2:29:06. An aggressive front-runner, Seboka finished second in Prague in May in a time of 2:30:39. She'll be challenged by Lioudmila Kortchaguina, the 38-year-old three-time winner of the Ottawa Marathon who can reliably break the 2:30 barrier.
Winners get $20,000 in victory earnings but the purse is bonus-oriented – Canadian records, for instance, offer $25,000 for the breaking of Jerome Drayton's 2:10:09 for men or Silvia Reugger's 2:28:36 for women. An all-comer's mark as the fastest time on Canadian soil (below 2:09:30 for men or 2:29.06 for women) offers an additional $20,000. There are also course-record prizes and age group prizes.
Maps are a list of road closures are available at the race's website, torontowaterfrontmarathon.com. The marathon and half-marathon begin at 7:30 a.m. (EDT) at Toronto's Nathan Phillips Square outside City Hall. The five-kilometre race begins at 10:20 a.m. at Exhibition Place. The finish for all the races is at City Hall.
"We're making a name as the place where runners come to get fast times and their confidence to step up to the big leagues," Brookes said.
Socialize with Abrams & Krochak
AKCanada – http://www.akcanada.com
Facebook –  http://www.facebook.comAKCanada
YouTube –   http://www.youtube.com/abramskrochak
Twitter-       http://www.twitter.com/abramskrochak