Canada to lead G7 growth in 2010: RBC
December 16, 2009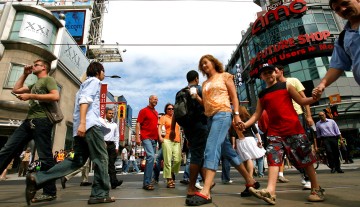 The Canadian economy is set to rebound next year, leading growth among G7 nations, the country's largest bank predicted Monday.
The domestic economy is expected to grow 2.6 per cent in 2010 and 3.9 per cent the year after that, after shrinking by an estimated 2.5 per cent this year, Royal Bank of Canada said in a report.
Stimulus spending, improving credit conditions and consumer spending will be the main drivers of growth, the bank said, with Saskatchewan leading the country's economic expansion next year.
"While challenges remain, a peak in stimulus and infrastructure spending across the federal, provincial and municipal governments, along with low interest rates, should result in a sustained recovery," said Craig Wright, the bank's chief economist, in the report.
The peak of stimulus spending will happen next year, while better credit conditions should lift growth through to 2011, he added.
Recovery comes with a steep price tag, though the budget deficits will still be lower, relative to GDP, than the peaks reached in the early 1990s, the report said.
Altogether, the provinces are projecting shortfalls of $38.2-billion in the 2009-2010 fiscal year and at least $30.2-billion the year after that – both records in terms of value, RBC said.
Canadian consumer spending should rise 2.3 per cent next year and accelerate to 2.7 per cent in 2011.
The jobless rate, meantime, will stay high next year, averaging 8.7 per cent and peaking at 8.9 per cent before easing to 7.8 per cent in 2011. Canada's unemployment rate is currently 8.5 per cent.
"The past year has been, by far, the toughest since the early 1990s recession and, in some cases, the early 1980s recession," the bank said.
Activity in the housing market will stay strong, though the pace will taper off in the second half of next year due to rising mortgage rates and higher home prices.
The Canadian dollar will trade around parity, supported by rising commodity prices and as the Bank of Canada boosts interest rates before the U.S. Federal Reserve. On Monday morning, the currency was trading around 93.88 cents (U.S.).
The U.S. economy will grow 2.5 per cent next year and 3.4 per cent in 2011, RBC said.
Among provinces, Saskatchewan is likely to tally the biggest growth spurt, with 3.9-per-cent growth next year and a 4.6-per-cent increase in 2011, thanks to a pickup in potash and natural gas markets.
"This will return the province to the top of the growth ranking among provinces after likely losing this honour to Manitoba in 2009," it said.
The slowest growth will likely be in Quebec and Prince Edward Island, at 2.2 per cent each next year.
Take our FREE Online Assessment Today!
Socialize with Abrams & Krochak