Body scanners coming to Canadian airports
January 5, 2010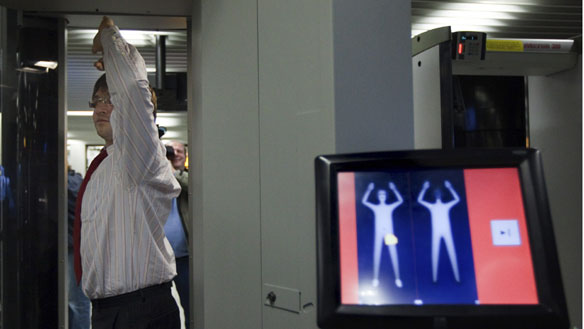 Body scanners will be installed in several Canadian airports to comply with new U.S. security protocols.
Federal Transportation Minister John Baird and Minister of State Rob Merrifield are due to make an announcement at 3 p.m. ET Tuesday on security at Canada's airports.
CBC has confirmed that the machines, which can scan through clothing, be installed in Vancouver, Calgary, Edmonton, Winnipeg, Toronto, Ottawa, Montreal and Halifax.
The Canadian Press reported that 45 scanners will be installed in 11 airports over the next two months.
Meanwhile, the U.S. government could be looking at more airport security measures.
President Barack Obama is scheduled to speak in Washington, D.C., at 4 p.m. ET after a meeting with top security and intelligence officials.
The focus on security measures stems from the failed attempt by a Nigerian man to set off a bomb on a flight from Amsterdam to Detroit on Christmas Day.
Umar Farouk Abdulmutallab, 23, is accused of trying to ignite the bomb on the Northwest Airlines flight. Officials said he has told U.S. investigators he received training and instructions from al-Qaeda operatives in Yemen.
Transport Canada said Monday that the enhanced security measures on flights to the U.S. will remain in place until further notice. People flying into the U.S. are not allowed to bring carry-on bags into the cabin of the aircraft, with some exceptions, such as coats, medication and items for infant care.
Travellers to the U.S. from Yemen, Nigeria, Saudi Arabia and 11 other countries face full body pat-downs before boarding.
Obama is due to get an update from FBI director Robert Mueller on the state of the investigation, while U.S. Attorney General Eric Holder will brief the president on the prosecution, and Homeland Secretary Janet Napolitano will review terrorist detection techniques.
John Brennan, the president's counterterrorism adviser, will update Obama on his own review of the terror watch-list system.
Take our FREE Online Assessment Today!
Socialize with Abrams & Krochak