Gov't agencies powerless over Canada 'immigration consultants'
December 9, 2010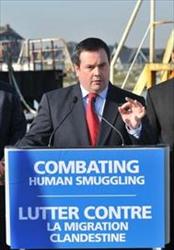 MAKATI City – Citing lack of jurisdiction, government agencies responsible for deployment of Filipinos remain powerless over recruiters claiming to help easy entry to Canada.
Labor Secretary Rosalinda Baldoz said foreign and local "immigration consultants" have capitalized on many Filipinos' desire to pack their bags for the North American market.
"They are registered with the Securities and Exchange Commission and got business permits from local government units, so they will regulate the work of these consultants," Baldoz told the OFW Journalism Consortium.
The phenomenon of immigration consultants has caught the attention of the Canadian government, with no less than Canadian Minister of Immigration and Citizenship Jason Kenney coming to the Philippines last month to assess the situation.
In a press conference, Kenney said he is aware that people representing themselves as immigration consultants had been advertising and claiming they can help Filipinos enter Canada.
"But I want Filipinos and Filipinas to know that they do not need to use the services of an immigration representative consultant, or lawyer," Kenney said in a statement read in the September 18 press briefing.
Kenney said the Canadian government gives "equal consideration to all immigration applications, regardless of whether they use the services of consultants, agents, recruiting agencies, or representatives."
Nobody has any inside track on immigration to Canada, he emphasized.
There are an estimated 450,000 Filipinos in Canada according to Statistics Canada. The US$1.9 billion they sent last year made up for the visibly lower remittances from Filipinos in the United States given the global economic crisis.
New regulations on Canada's temporary foreign worker program now require employers to provide contracts that specify wages, benefits, accommodation, duties, hours of work, and holiday and sick leave entitlements.
By April next year, the Canadian government said it will "rigorously assess" job openings for temporary foreign workers and live-in caregivers before it gives employers authorization to hire them. If employers disregard the regulations governing temporary foreign workers, they will be banned for 2 years from hiring workers.
Under the new set of rules, live-in caregivers become eligible for permanent residency after working for 3,900 hours over a minimum of 22 months (with a maximum of 390 overtime hours), or working for two years at regular full-time rates.  Direct
Days after Kenney left Manila, Baldoz and Premier Greg Selinger of the Province of Manitoba signed an updated memorandum of understanding on sending Filipino workers to that Canadian province.
Initially signed in 2008, Baldoz said the MOU adheres to Manitoba's immigration regulations and is covered by Canada's new rules for temporary foreign workers and for live-in caregivers.
She said immigration consultants are out of this recruitment set up.
For Manitoba province, labor and immigration assistant deputy minister Ben Rempel said that every recruiter wishing to hire Filipino workers for Manitoban employers must register with his office, Manitoba Labor and Immigration.The MOU states that workers will not pay any placement fees, which should be shouldered by the Manitoban employer.
The MOU states that charging prospective Filipino workers with fees or payment "contravenes [Manitoba's] Employment Standards Code and/or the Worker Recruitment Protection Act."
If a worker was found to have paid fees "illegally," the Manitoban employer and the recruiter must compensate the worker, Rempel told the OFW Journalism Consortium.
As for so-called "immigration consultants," whether based in the Philippines or in Manitoba, Rempel said they must also register with his office.
However, Rempel said most of the foreigners going to his province "did not pass through immigration consultants."
The CIC website states that immigration representatives are people who offer immigration advice to visa applicants. These representatives may either be lawyers in good standing of a Canadian provincial or territorial law society or immigration consultants who are good-standing members in the nonprofit Canadian Society of Immigration Consultants. They could also be notaries public who are good-standing members in the Chambre des notaries du Quebec.
Relatives, friends or non-governmental or religious organizations can also represent the foreign worker in her/his application.
But the website also says that "The Government of Canada will not deal with non-authorized representatives who charge a fee for their service".
At the same time, a media notice by CIC warns applicants of immigration scams, as well as informs that
application forms and guides are free.
Courting
Selinger said there are an estimated 60,000 Filipinos in Manitoba. In 2008, when the Philippines and Manitoba signed an initial MOU, 91 overseas Filipino workers (OFWs) were deployed to Manitoba followed by 162 more in 2009. These Filipinos were mostly nurses, production workers, and service workers.
Manitoba is targeting some 14,000 foreign workers annually until 2016 —and hopes the Philippines will provide 30 to 40 percent of this annual inflow of workers.
These future workers will now be governed by the province's old laws such as the Employment Standards Code and the Workplace Safety and Health Act, and the new Worker Recruitment and Protection Act passed last year.
As usual, Filipino workers deployed overseas and recruitment agencies abide by the 2002 Rules and Regulations on Deploying Land-based Workers by the Philippine Overseas Employment Administration (POEA).
In the updated MOU, DOLE (through POEA) will register and accredit Manitoban employers that will hire Filipino workers, while Philippine-based recruitment agencies will provide the Manitoban employers with lists of pre-qualified Filipino workers. These pre-qualified workers will then apply for Canadian work permits and/or nomination for Manitoba's Provincial Nominee Program (PNP).
The MOU signed by Baldoz and Rempel recognizes that the Canadian national government will "retain final authority to determine applications for permanent residency and… for temporary work permits".
The phrase "immigration consultants" is nowhere to be found in the MOU.
The CIC website and Kenney did not say that immigration consultants are disallowed from conducting business.
Nevertheless, Minda Valencia, deputy executive director of the Commission on Filipinos Overseas (CFO), urged Filipinos to "file their applications on their own."
Like the Labor Department, the CFO doesn't regulate immigration consultants either, according to Valencia.
The CSIC website, www.csic-scci.ca, carries a list of accredited immigration consultants
While most of members of their society are based in Canada, there are five CSIC-accredited consultants based in the Philippine cities of Makati, Taguig, and Paranaque, and in the province of Bulacan.
Take our FREE Online Assessment Today!
Socialize with Abrams & Krochak
via http://www.abs-cbnnews.com/global-filipino/11/05/10/gov'
t-agencies-powerless-over-canada-immigration-consultants