Overview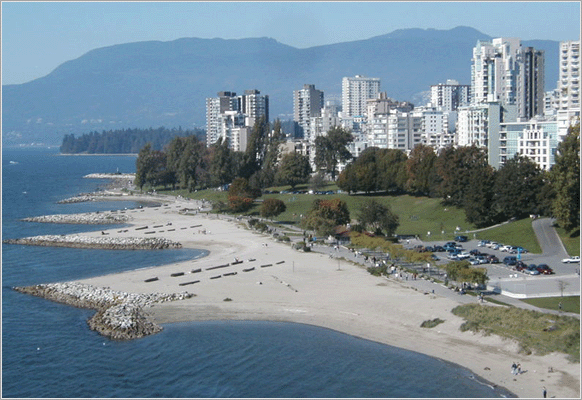 Sunset beach at English Bay in the West End of downtown
Not only do Vancouverites live in the world's third-best urban centre, but they also enjoy the highest overall quality of life in Canada. So says an annual international survey that ranked 215 cities around the globe, based on 39 criteria measuring such quality-of-life determinants as personal safety and social, economic and environmental conditions. (Mercer Human Resource Consulting)
Thanks in part to Immigration, Vancouver is the largest metropolitan area in western Canada and the third largest in the country. It has an ethnically diverse population: more than half of its residents have a first language other than English. The city is growing rapidly, and the metropolitan population is projected to reach 2.6 million by 2020.
Canadian immigrants accounted for 39.6% of the Vancouver metropolitan area's total population of 2,098,000. While in 2001, Vancouver ranked third in its proportion of foreign-born among major Canadian, American and Australian cities, in 2006, its proportion was second only to Toronto (Canadian immigrants represent 45.7% of the population). Vancouver had surpassed that of Miami (36.5%), Los Angeles (34.7%), Sydney (31.7%) and Melbourne (28.9%).
Vancouver has a growing tourism industry, for example, and has become the third-largest film production centre in North America, after Los Angeles and New York City, earning it the nickname Hollywood North. More recently, Vancouver has had an expansion in high-tech industries, most notably video game design.
Geography and Climate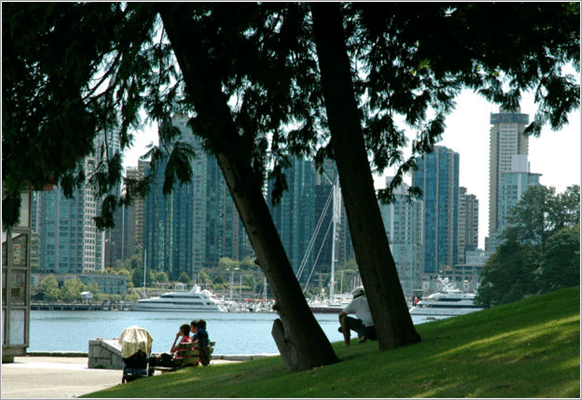 Stanley Park and a Downtown residential area
The original vegetation of most of Vancouver and its suburbs was dense temperate rain forest, consisting of conifers with scattered pockets of maple and alder, as well as large areas of swampland.
The conifers were a typical coastal British Columbia mix of Sitka spruce, Western red cedar, Western hemlock, Douglas fir, and yew, and are thought to have been the greatest concentration of the largest of these trees on the entire British Columbia Coast.
Vancouver has an area of 114 square kilometres, including both flat and hilly ground. Vancouver is adjacent to the Strait of Georgia, a body of water that is shielded from the Pacific Ocean by Vancouver Island. It is in the Pacific Time Zone (UTC-8) and the Pacific Maritime Ecozone.
Many people that choose to immigrate to Canada are attracted to Vancouver for its scenery, including one of the largest urban parks in North America, Stanley Park. The North Shore Mountains dominate the cityscape, and on a clear day scenic vistas include the snow-capped volcano Mount Baker in the State of Washington to the southeast, Vancouver Island across the Strait of Georgia to the west and southwest, and the Sunshine Coast to the northwest.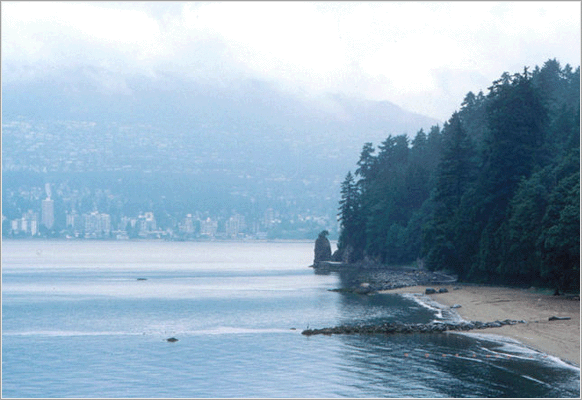 A rainy day at Third Beach and Siwash Rock in Stanley Park
Top Regions of Birth for Recent Immigrants
Birth Region
Population
Percent
United States of America
4,610
3.0%
Central America
2,455
1.6%
South America
2,865
1.9%
Western Europe
1,650
1.1%
Eastern Europe
7,520
5.0%
Southern Europe
1,720
1.1%
Northern Europe
4,085
2.7%
Western Africa
625
0.4%
Eastern Africa
2,000
1.3%
Northern Africa
905
0.6%
Central Africa
155
0.1%
Southern Africa
1,110
0.7%
West Central Asia and the Middle East
11,815
7.8%
Eastern Asia
63,600
41.9%
Southeast Asia
20,700
13.6%
Southern Asia
22,430
14.8%
Oceania and other
2,990
2.0%
Vancouver Immigration Profile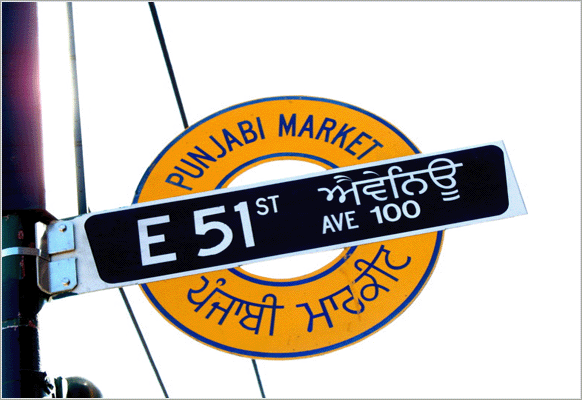 Punjabi street sign on Main Street
While Vancouver remains a very ethnically diverse city, a substantial portion of the recent Canadian immigrants that settled in Vancouver were from Asia and the Middle East (78.2%), specifically the People's Republic of China (26%), India (12%) and the Philippines (11%).
During the period of 2001 to 2006 Vancouver became home to 151,695 new Canadian immigrants. The chart to the left shows the regions of birth for the recent immigrants according to the Canadian 2006 Census.
The population of Canadian immigrants in the census metropolitan area (CMA) of Vancouver increased five times faster than its Canadian-born population between 2001 and 2006, according to the Canadian 2006 Census. The census counted 831,300 Canadian immigrants in the Vancouver CMA, and increase of 12.6%, compared with the growth rate of 2.3% in the Canadian-born population.
Vancouver has been called a "city of neighbourhoods," each with a distinct character and ethnic mix. People of British origin were historically the largest ethnic group in the city, and elements of British society and culture are highly visible in some areas, particularly South Granville and Kerrisdale. The Chinese are by far the largest visible ethnic group in the city, and Vancouver has one of the most diverse Chinese-speaking communities, with several Chinese languages being represented. There are also many monocultural neighbourhoods, such as the Punjabi Market, Little Italy, Greektown, and Japantown. Bilingual street signs can be seen in various neighbourhoods, including Chinatown and the Punjabi Market.
Many immigrants from Hong Kong made Vancouver their home in anticipation of the transfer of that former colony's sovereignty from the United Kingdom to China. This continued a tradition of Immigration from around the world that had already established Vancouver as the second most popular destination for immigrants in Canada (after Toronto). Other significant Asian ethnic groups in Vancouver are South Asians (mostly Punjabis, usually referred to as Indo-Canadians), Vietnamese, Filipino, Korean, Cambodian, and Japanese.
Prior to the Hong Kong influx of the 1980s, the largest non-British ethnic group in the city was German, followed by Ukrainian, Scandinavian, Italians and the historical Chinese population. Invisible minorities, such as newly-arrived Eastern Europeans, are also a feature of the city's ethnic landscape.
There is also a sizable aboriginal community in Vancouver as well as in the surrounding metropolitan region, with the result that Vancouver constitutes the largest native community in the province.
Vancouver has a substantial gay community, and British Columbia was the second Canadian jurisdiction to legalize same-sex marriage as a constitutional right, shortly after Ontario. The downtown area around Davie Street is home to most of the city's gay clubs and bars and is known as Davie Village. Every year Vancouver holds one of the country's largest gay pride parades.
Economy and Job Opportunities for Immigrants
One of the reasons that people choose to immigrate to Vancouver is because of its location on the Pacific Rim, at the western terminus of Canada's transcontinental highway and rail routes, which makes Vancouver one of the nation's largest industrial centres.
The Port of Vancouver, Canada's largest and most diversified, does more than C$43 billion in trade with over 90 countries annually. Port activities generate $4 billion in gross domestic product and $8.9 billion in economic output. Vancouver is also the headquarters of forest product and mining companies. In recent years, Vancouver has become an increasingly important centre for software development, biotechnology and a vibrant film industry.
The city's scenic location makes it a major Immigration destination. Immigrants come for the city's gardens, Stanley Park, Queen Elizabeth Park, and a multitude of mountains, ocean, forest and parklands surrounding the city. The numerous beaches, parks, waterfronts, and mountain backdrop, combined with its cultural and multi-ethnic character, all contribute to its unique appeal and style for immigrants.
Education for Dependant Children and Post Secondary
Education is another important consideration for people immigrating with children. Vancouver is served by School District 39 Vancouver, the second largest school district in British Columbia. As in other parts of the province, numerous independent schools are also eligible for partial provincial funding - this includes religious schools, non-denominational schools, and special-needs schools, most of which also charge tuition. Vancouver also includes three schools that are part of the province-wide Conseil scolaire francophone de la Colombie-Britannique (CSF), the Francophone public school district.
Vancouver is served by the Lower Mainland's two major public universities, the University of British Columbia (UBC) and Simon Fraser University (SFU), as well as a private Christian university, Trinity Western University (TWU). UBC and SFU have satellite campuses within the city, as does the British Columbia Institute of Technology, which provides polytechnic education and grants degrees in several fields. Vancouver Community College and Langara College, along with other colleges in surrounding communities, provide career, trade, and university-transfer programs for Vancouver residents. Emily Carr Institute of Art and Design grants certificates, diplomas, and degrees in art and design. Other arts schools include the Vancouver Film School and Studio 58.
In May of 2006 Fairleigh Dickinson University, a private American university, with campuses in Madison and Teaneck, NJ as well as Wroxton, England, was granted approval to operate as a University in British Columbia. They will begin offering degree programs in Vancouver's Yaletown neighborhood in Fall 2007, focusing primarily on international students from the Pacific Rim.
Arts and Culture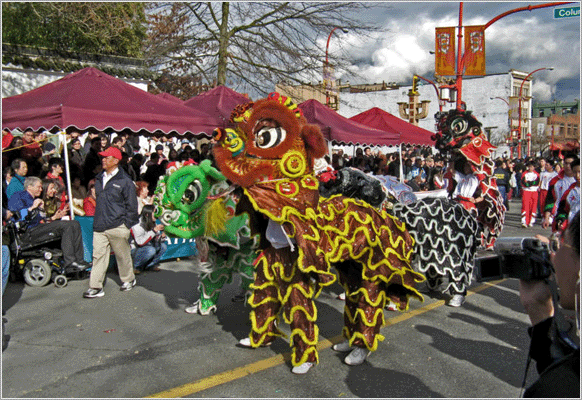 Chinese New Year Parade, 2007
Prominent theatre companies in Vancouver include the Arts Club Theatre Company, the Vancouver Playhouse Theatre Company, and Bard on the Beach. Smaller companies include Touchstone Theatre, Studio 58, Carousel Theatre, and the United Players of Vancouver. Theatre Under the Stars produces shows in the summer at Malkin Bowl in Stanley Park. In addition, Vancouver holds an annual Fringe Festival and International Film Festival.
Vancouver is the home to a number of museums and galleries. The Vancouver Art Gallery has a permanent collection of over 7,900 items valued at over $100 million and is the home of a significant number of works by Emily Carr. The Vancouver Maritime Museum is a nautical museum featuring the St. Roch, the first vessel to sail the Northwest Passage and to circumnavigate North America. The Museum of Anthropology at UBC is a leading museum of Pacific Northwest Coast First Nations culture, and the Vancouver Museum is the largest civic museum in Canada. A more interactive museum is Science World.
Sports and Recreation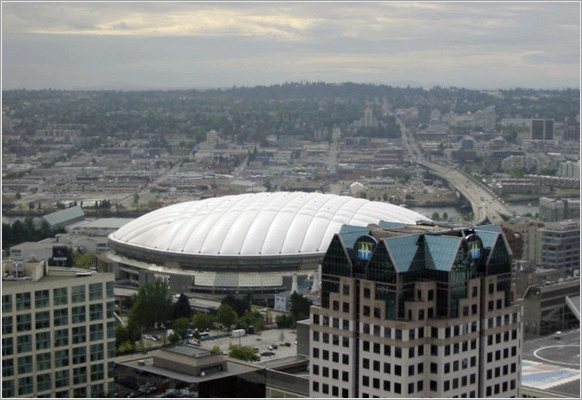 BC Place Stadium, home of the BC Lions
Vancouver is a popular destination for boating enthusiasts.The coastline provides for many types of water sport.
The nearby North Shore Mountains are home to three ski hills, Cypress Mountain, Grouse Mountain, and Mount Seymour. Each are within 20 to 30 minutes (driving time) of downtown Vancouver. Mountain bikers have created world-renowned trails across the North Shore. The Capilano River, Lynn Creek, Seymour River, within 20 minutes (driving time) of downtown, provide opportunities to whitewater enthusiasts during periods of rain and spring melt. The Vancouver Marathon is held every May, the Vancouver Sun Run (a 10 km race) every April.
Vancouver will be the host city for the 2010 Winter Olympics and the 2009 World Police and Fire Games. Swangard Stadium, just across the city line in Burnaby, will host some games for the 2007 FIFA U-20 World Cup.
Professional Sports Teams
Club
Sport
League
Venue
Vancouver Canucks
Ice Hockey
National Hockey League
General Motors Place
British Columbia Lions
Football
Canadian Football League
BC Place Stadium
Vancouver Canadians
Baseball (Single A Short Season)
Northwest League
Nat Bailey Stadium
Vancouver Giants
Ice Hockey (Junior)
Western Hockey League
Pacific Coliseum
Whitecaps FC
Soccer
USL First Division (men's)
W-League (woman's)
Swangard Stadium