Overview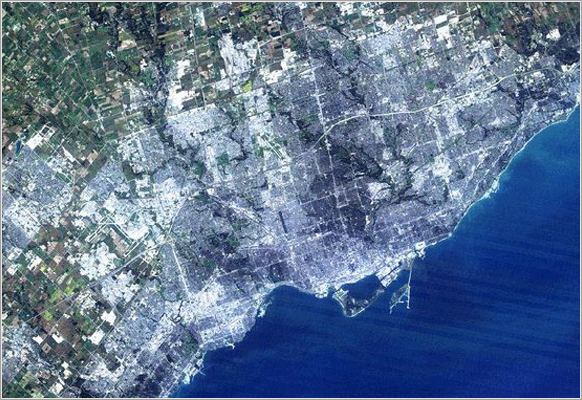 Image of Toronto taken by NASA's Landsat 7 satellite
Toronto rated 15th in the Mercer Human Resource Consulting annual international survey, that ranked 215 cities around the globe, based on 39 criteria measuring such quality-of-life determinants as personal safety and social, economic and environmental conditions. This makes Toronto a top choice for people interested in Immigration to Canada.
Toronto is the largest city in Canada and the provincial capital of Ontario, located on the northwestern shore of Lake Ontario. The city had a population of 2,503,281 and its census metropolitan area (CMA) had a population of 5,072,100 at the 2006 Canadian census. The foreign-born population accounted for 45.7% of the CMA's total population, up from 43.7% in 2001.
According to the Canadian 2006 Census Toronto is still the major gateway for immigrants in Canada. The census enumerated 2,320,200 Canadian immigrants in Toronto in 2006, the largest number of any metropolitan area in the nation. Between 2001 and 2006, the foreign-born population grew by 14.1%, compared to 4.6% for the Canadian-born population
Geography and Climate
Consider immigrating to Toronto if you are looking for a large, diverse city. Toronto covers an area of 629.91 square kilometres. One of the many natural features of the city is the 46 kilometre long waterfront shoreline. Toronto's borders are bounded by Lake Ontario to the south, Etobicoke Creek to the west, and the Rouge River to the east.
When thinking about Canadian Immigration some people may be worried about harsh winters, Toronto's climate is moderate for Canada due to its southerly location within the country and its proximity to Lake Ontario. It has a humid continental climate, with warm, humid summers and generally cold winters, although fairly mild by Canadian and many northern continental U.S. standards. Spring and Autumn are transitional seasons with generally mild or cool temperatures with alternating dry and wet periods, typical conditions of both seasons usually arrive later than in other continental climates at similar latitudes owing to the presence of Lake Ontario and to a lesser degree, the other Great Lakes.
Top Regions of Birth for Recent Immigrants
Birth Region
Population
Percent
United States of America
8,475
1.9%
Central America
4,505
1.0%
South America
21,410
4.8%
Western Europe
2,825
0.6%
Eastern Europe
38,025
8.5%
Southern Europe
11,270
2.5%
Northern Europe
5,455
1.2%
Western Africa
7,730
1.7%
Eastern Africa
10,655
2.4%
Northern Africa
4,425
1.0%
Central Africa
1,6100
0.4%
Southern Africa
1,475
0.3%
West Central Asia and the Middle East
46,285
10.3%
Eastern Asia
83,035
18.5%
Southeast Asia
41,050
9.2%
Southern Asia
142,435
31.8%
Oceania and other
1,335
0.3%
Toronto Immigration Profile
For many years people have been choosing to immigrate to Toronto. According to the United Nations Development Programme, Toronto has the highest percentage of foreign-born population among world cities, passing Miami, Florida.
Of the 1,110,000 Canadian immigrants who arrived in Canada during this five-year period, an estimated 40%, chose Toronto.
The top region for recent immigrants to Toronto was Asia and the Middle East (70%). In 2006, India (17%)surpassed the People's Republic of China (14%) as the number one source country of immigrants settling in Toronto.
During the period of 2001 to 2006 Toronto became home to 447,925 new Canadian immigrants. These new immigrants made up 8.8% of Toronto's total population in 2006. The chart to the left shows the regions of birth for the recent immigrants according to the Canadian 2006 Census.
While English is the predominant language spoken by Torontonians, many other languages have considerable numbers of local speakers, including French, Italian, Chinese, Spanish, Portuguese, Tamil, Punjabi, Tagalog, Hindi, and Urdu. Italian is the second most widely spoken language at work. As a result, the city's 9-1-1 emergency services are equipped to respond in over 150 languages.
Economy and Job Opportunities for Immigrants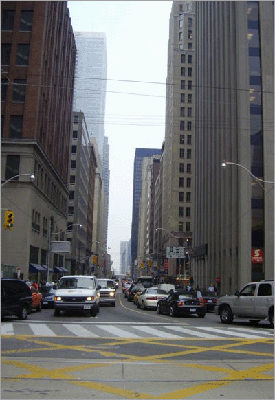 Bay Street, looking south from its intersection with Queen Street West
Toronto is a major international centre for business and finance and offers many opportunities for business class immigrants as well as skilled workers. Generally considered the financial capital of Canada, Toronto has a high concentration of banks and brokerage firms on Bay Street, the city's main financial street. The Toronto Stock Exchange is the world's sixth-largest stock exchange by market capitalization. All of the Big Five banks of Canada are headquartered in Toronto.
The city is an important centre for the media, publishing, telecommunications, information technology and film production industries; it is home to Thomson Corporation, CTVglobemedia, Rogers Communications, Alliance Atlantis and Celestica. Other prominent Canadian corporations in Toronto include Four Seasons Hotels, the Hudson's Bay Company and Manulife Financial.
Although much of the region's manufacturing activities take place outside the city limits, Toronto continues to be an important wholesale and distribution point for the industrial sector, creating ample job opportunities for skilled and unskilled workers. The city's strategic position along the Quebec City-Windsor Corridor and its extensive road and rail connections help support the nearby production of motor vehicles, iron, steel, food, machinery, chemicals and paper. The completion of the St. Lawrence Seaway in 1959 gave ships access to the Great Lakes from the Atlantic Ocean.
Education for Dependant Children and Post Secondary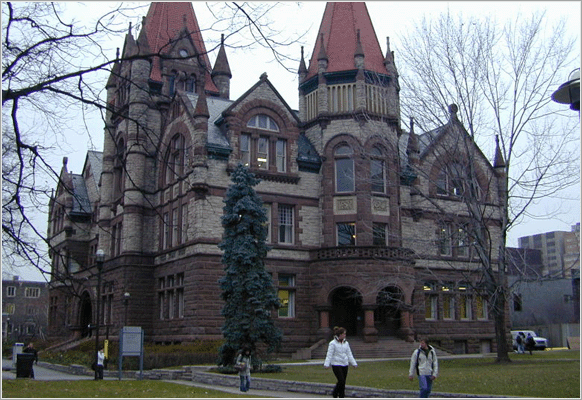 The main building of Victoria College in the University of Toronto
The education system in Toronto, is another draw for potential immigrants. Toronto is home to a diverse range of public and private educational institutions. The Toronto District School Board operates 451 public schools and 102 Secondary or high schools. This makes the TDSB the largest school board in Canada. Additionally, the Toronto Catholic District School Board manages the city's publicly-funded Roman Catholic schools, while the Conseil scolaire de district du Centre-Sud-Ouest and the Conseil scolaire de district catholique Centre-Sud manages public and Roman Catholic French-language schools. There are also numerous private university-preparatory schools, such as Toronto French School, College of Toronto, Havergal College, Bishop Strachan School, St. Michael's College School, De La Salle College, Upper Canada College, St. Clement's School, Branksome Hall, University of Toronto Schools and Crescent School.
The University of Toronto, established in 1827, is the oldest university in the province of Ontario and a leading public research institution. The city is also home to Ryerson University, York University and the Ontario College of Art & Design.
There are five diploma-granting community colleges in Toronto: Seneca College, Humber College, Centennial College, Sheridan College and George Brown College. The Royal Conservatory of Music, which includes The Glenn Gould School, is a major music school located in downtown. The Canadian Film Centre is a film, television and new media training institute founded by filmmaker Norman Jewison.
The Toronto Public Library is the largest public library system in Canada, consisting of 99 branches with more than 11 million items in its collection.
Arts and Culture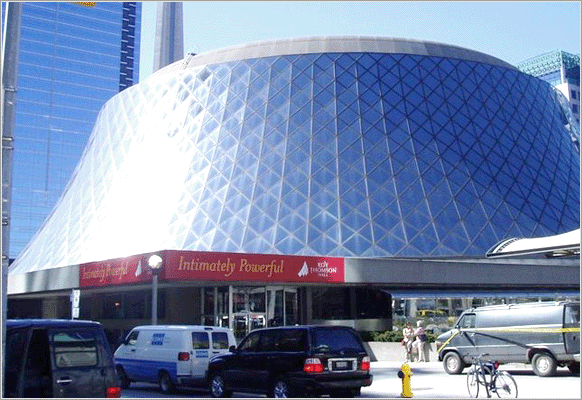 Roy Thomson Hall
Toronto's arts and culture scene is booming, if culture, nightlife and the arts are an important factor for you then immigrate to Toronto. Toronto is a major scene for theatre and other performing arts, with more than fifty ballet and dance companies, six opera companies, and two symphony orchestras. The city is home to the National Ballet of Canada, the Canadian Opera Company, and the Toronto Symphony Orchestra.
The production of domestic and foreign film and television is a major local industry. Toronto often stands in on-screen for large American cities like New York and Chicago. Many movie releases are screened in Toronto prior to wider release in North America. The Toronto International Film Festival is one of the most important annual events for the international film industry.
Toronto's Caribana festival takes place from mid-July to early August of every summer, and is one of North America's largest street festivals. For the most part, Caribana is based on the Trinidad Carnival, and the first Caribana took place in 1967 when the city's Caribbean community celebrated Canada's Centennial year.
Sports and Recreation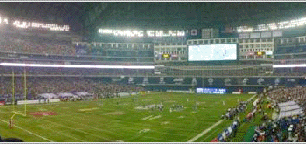 Panoramic view of an Argonauts game at Rogers Centre
Serious sports fans should consider immigrating to Toronto as Toronto is the only Canadian city with representation in five major league sports through National Hockey League, Major League Baseball, National Basketball Association, Canadian Football League and Major League Soccer teams. The major sports complexes include the Air Canada Centre, Rogers Centre (formerly known as SkyDome) and BMO Field (currently under construction).
In addition to team sports, both thoroughbred and standardbred horseracing are conducted at Woodbine Race Track in Rexdale.
Toronto is home to the International Bowl, an NCAA sanctioned post-season football game that puts a Mid-American Conference team against a Big East Conference team. Beginning in 2007, the game is played at the Rogers Centre annually in January.
Historic sports clubs of Toronto include the Granite Club (est. 1836), the Royal Canadian Yacht Club (est. 1852), the Toronto Cricket Skating and Curling Club (est. pre-1827), the Argonaut Rowing Club (est. 1872), the Toronto Lawn Tennis Club (est. 1881), and the Badminton and Racquet Club (est. 1924).
Professional Sports Teams
Club
League
Sport
Venue
Toronto Argonauts
CFL
Football
Rogers Centre
Toronto Maple Leafs
NHL
Ice hockey
Air Canada Centre
Toronto Maple Leafs
IBLIBL Baseball
Baseball
Christie Pits
Toronto Blue Jays
MLB
Baseball
Rogers Centre
Toronto Raptors
NBA
Basketball
Air Canada Centre
Toronto Lynx
PDL
Soccer
Centennial Park Stadium
Toronto St. Michaels Majors
OHL
Ice hockey
St. Michael's College School Arena
Toronto Rock
NLL
Box lacrosse
Air Canada Centre
Toronto Xtreme
RCSL
Rugby
Fletcher's Field
Toronto Marlies
AHL
Ice hockey
Ricoh Coliseum
Toronto FC
MLS
Soccer
Air Canada Centre