Overview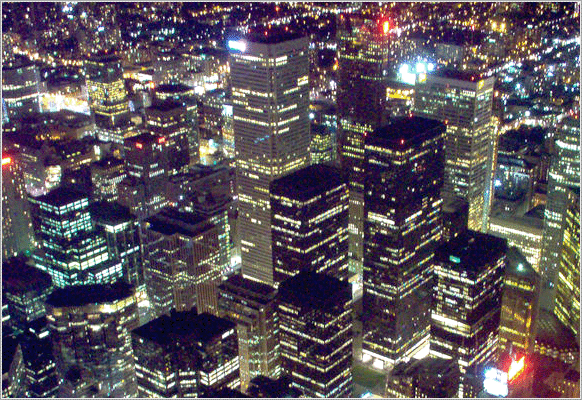 Toronto: Ontario's capital city and Canada's largest metropolis
Ontario is the primary destination for Immigration in Canada. Toronto, located in Ontario; due to its size, prosperity and vibrant multicultural communities has benefited through its economy the entrepreneurial nature of its large Immigration communities.
Ontario is located in the east-central part of the Canada, the largest by population and second largest (after Quebec) in total area. Ontario is bordered by the provinces of Manitoba to the west, Quebec to the east, and the United States to the south. Ontario is also the only Canadian Province that borders the Great Lakes.
The capital of Ontario is Toronto, the largest city in Canada. Ottawa, the capital of Canada, is located in Ontario as well. The 2011 Census counted 12,851,821 residents in Ontario, which accounted for 38.5% of the national population.
Immigration Profile
As of the 2011 Census, Ontario continued to be the province of choice for more than half of the 6.8 million new Canadian immigrants. The Census enumerated 3,611,365 Canadian immigrants in Ontario. They represented 28.5% of the province's population, the highest proportion of all 10 provinces and the highest in Ontario's history. Most Canadian immigrants that settled in Ontarian live in the census metropolitan area of Toronto. The other Ontario metropolitan areas that were home to at least 2% of the province's foreign-born population were the Ontario part of Ottawa – Gatineau, Hamilton, Kitchener, London and Windsor.
Immigration is a huge population growth force in Ontario as it has been over the last two centuries, in relation to natural increase or inter-provincial migration. More recent sources of immigrants with already large or growing communities in Ontario include Caribbeans (a majority of whom are Jamaicans), South Asians (for example, Pakistanis, Indians, Bangladeshis and Sri Lankans), East Asians (mostly Chinese and Filipinos), Central/South Americans, Eastern Europeans such as Russians and Bosnians, and groups from Iran, Somalia and Western Africa.
The chart above outlines ethnic groups in Ontario, based on the 2011 National Census. The percentages add to more than 100% because of dual responses (e.g. "French-Canadian" generates an entry in both the category "French" and the category "Canadian"). Groups with greater than 200,000 responses are included. The majority of Ontarians are of British (English, Scottish, Welsh) and Irish ancestry.
Ten largest municipalities by population
Municipality
2011
2006
2001
1996
Toronto (provincial capital)
2,615,060
2,503,281
2,481,494
2,385,421
Ottawa (national capital)
883,391
812,129
774,072
721,136
Mississauga
713,443
668,549
612,925
544,382
Brampton
523,911
433,806
325,428
268,251
Hamilton
519,949
504,559
490,268
467,799
London
366,151
352,395
336,539
325,669
Markham
301,709
261,573
208,615
173,383
Vaughan
288,301
238,866
182,022
132,549
Kitchener
219,153
204,668
190,399
178,420
Windsor
210,891
216,473
209,218
197,694
Geography & Immigration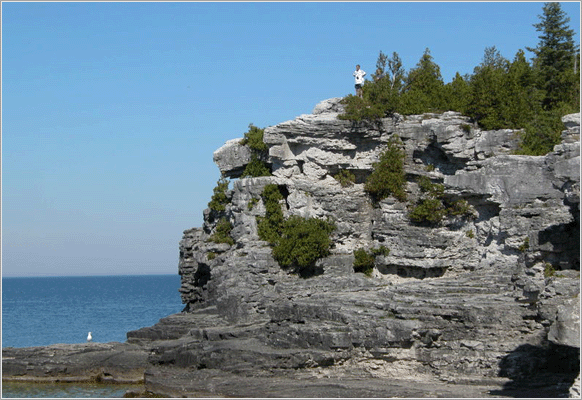 Bruce peninsula
The province consists of three relatively temperate, main geographical regions which may offer familiarity to those immigrating to Ontario, given their similarities to many regions in the world. The regions include: the thinly populated Canadian Shield in the northwestern and central portions which covers over half the land area in the province and is rich in minerals and studded with lakes and rivers; sub-regions are Northwestern Ontario and Northeastern Ontario. The second region can be described as virtually unpopulated Hudson Bay Lowlands in the extreme north and northeast, mainly swampy and sparsely forested; and the temperate, and therefore most populous region, fertile Great Lakes-Saint Lawrence Valley in the south where agriculture and industry are concentrated. Southern Ontario is further sub-divided into four regions; Southwestern Ontario (parts of which formerly referred to as Western Ontario), Golden Horseshoe, Central Ontario (although not actually the province's geographic centre) and Eastern Ontario.
Despite the absence of any mountainous terrain in the province, there are large areas of uplands, particularly within the Canadian Shield which traverses the province from northwest to southeast and also above the Niagara Escarpment which crosses the south. The highest point is Ishpatina Ridge at 693m above sea level located in Northeastern Ontario.
The Carolinian forest zone covers most of the southwestern section, its northern extent is part of the Greater Toronto Area, which the bulk of Canadian immigrants calls home, at the western end of Lake Ontario. The most well-known geographic feature is Niagara Falls, part of the much more extensive Niagara Escarpment. The Saint Lawrence Seaway allows navigation to and from the Atlantic Ocean as far inland as Thunder Bay in Northwestern Ontario. Northern Ontario occupies roughly 85% of the surface area of the province; conversely Southern Ontario contains 94% of the population (see article Geography of Canada).
Point Pelee National Park is a peninsula in southwestern Ontario (near Windsor, Ontario and Detroit, Michigan) that extends into Lake Erie and is the southernmost extent of Canada's mainland. Pelee Island in Lake Erie extends slightly further. Both are south of 42°N - slightly further south than the northern border of California.
Ethnic groups
Ethnic origin
Population
Percent
English
2,971,360
24.7%
Canadian
2,768,870
23%
Scottish
2,101,100
17.5%
Irish
1,988,940
16.5%
French
1,351,600
11.2%
German
1,144,560
9.5%
Italian
867,980
7.2%
Chinese
644,465
5.4%
East Indian
573,250
4.8%
Dutch
490,995
4.1%
Polish
465,560
3.9%
Ukrainian
336,355
2.8%
First Nations
317,890
2.6%
Portuguese
242,870
2.4%
Filipino
215,750
1.8%
Largest Census Metropolitan Areas (CMAs) by population
Statistics Canada's measure of a "metro area", the Census Metropolitan Area (CMA) roughly bundles together population figures from the core municipality with those from "commuter" municipalities.
| City | 2011 | 2006 | 2001 |
| --- | --- | --- | --- |
| Toronto | 5,583,064 | 5,113,149 | 4,682,897 |
| Ottawa-Gatineau | 1,236,324 | 1,130,761 | 1,063,664 |
| Hamilton | 721,053 | 692,91 | 662,401 |
| Kitchener-Cambridge-Waterloo | 477,160 | 451,23 | 414,284 |
| London | 474,78 | 457,720 | 432,451 |
| St. Catharines-Niagara | 392,184 | 390,317 | 377,009 |
| Oshawa | 356,177 | 330,594 | 296,298 |
| Windsor | 319,246 | 323,342 | 307,877 |
| Barrie | 187,013 | 177,061 | 148,480 |
| Greater Sudbury | 160,770 | 158,258 | 155,601 |
Climate & Immigration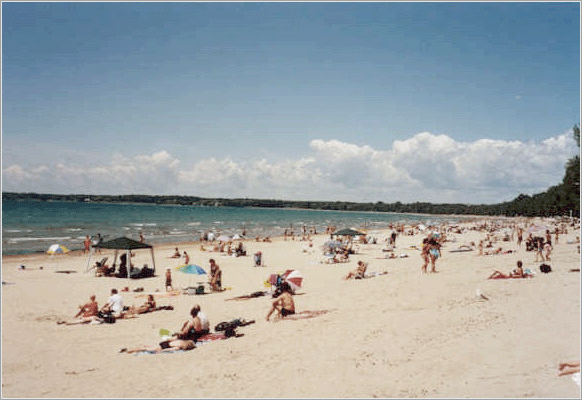 Enjoying summer at Sandbanks Provincial Park on Lake Ontario
Ontario has three main climatic regions, each of which is relatively temperate and appealing to those considering Immigration to Canada and in particular Ontario. Southwestern and south-central Ontario, including the southern half of the Golden Horseshoe, has a moderate humid continental climate (Koppen climate classification Dfa), similar to that of the inland Mid-Atlantic States and the lower Great Lakes portion of the U.S. Midwest. The region has hot, humid summers and cold winters. It is considered a temperate climate when compared with most of Canada. In the summer, the air masses often come out of the southern United States, as the stronger the Bermuda High Pressure ridges into the North American continent, the more warm, humid air is drawn northward from the Gulf of Mexico. Throughout the year, but especially in the fall and winter, temperatures are moderated somewhat by the lower Great Lakes, making it considerably milder than the rest of the provinces and allowing for a longer growing season than areas at similar latitudes in the continent's interior. Both spring and fall are generally pleasantly mild, with cool nights. Annual precipitation ranges from 750 mm (30 inches) to 1000 mm (40 inches) and is well distributed throughout the year with a summer peak. Most of this region lies in the lee of the Great Lakes and receive less snow than any other part of Ontario.
Most of Central and Eastern Ontario, plus the southern part of Northern Ontario, have a more severe humid continental climate (Koppen Dfb). This region has warm to hot summers (although somewhat shorter than in Southwestern Ontario) with cold and somewhat longer winters and a shorter growing season. The southern parts of this region lie at the windward side of the lakes, primarily Lake Huron. The Great Lakes also have a moderating effect for shoreline areas. However, the open lakes frequently result in lake effect snow squalls on the eastern and southern shores of the lakes, that affect much of the Georgian Bay shoreline including Killarney, Parry Sound, Muskoka and Simcoe County; the Lake Huron shore from east of Sarnia northward to the Bruce Peninsula, sometimes reaching London. Wind-whipped snow squalls or lake effect snow can affect areas as far as 100 kilometres (62 miles) or greater from the shore, but the heaviest snows usually occur within 20 kilometres (12 miles) from the shoreline. Some snowbelt areas receive an annual average of well over 300 cm (120 inches) of snow annually.
For those considering Immigration to the more northern parts of Ontario, it is important to note that it has a subarctic climate (Koppen Dfc) with colder winters and shorter, warm summers. This climate has begun to moderate as global warning has had a signifant imnpact, with moderating infuences. With increasing frequency, hot weather occasionally reaches even the northernmost parts of Ontario, although humidity is generally lower than in the south. With no major mountain ranges blocking Arctic air masses, winters are generally very cold, especially in the far north and northwest where temperatures below -40°C (-40°F) are not uncommon. The snow stays on the ground much longer in the region as opposed to any other regions of Ontario; it is not uncommon to see snow on the ground from October to May here.
Economy & Immigration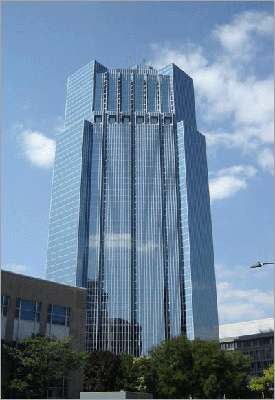 One London Place, London, Ontario
Ontario's rivers, including its share of the Niagara River, make it rich in hydroelectric energy. Since the privatization of Ontario Hydro which began in 1999, Ontario Power Generation runs 85% of electricity generated in the province, of which 41% is nuclear, 30% is hydroelectric and 29% is fossil fuel derived. OPG is not however responsible for the transmission of power, which is under the control of Hydro One. Despite its diverse range of power options, problems related to increasing consumption, lack of energy efficiency and aging nuclear reactors, Ontario has been forced in recent years to purchase power from its neighbours, Quebec and Michigan to supplement its power needs during peak consumption periods.
An abundance of natural resources, excellent transportation links to the American heartland and the inland Great Lakes making ocean access possible via ship containers, have all contributed to making manufacturing the principal industry, found mainly in the Golden Horseshoe region which is the largest industrialized area in Canada. Important products include motor vehicles, iron, steel, food, electrical appliances, machinery, chemicals, and paper. Many immigrants to Ontario have retained jobs in automotive industry. Ontario surpassed Michigan in car production; assembling 2.696 million vehicles in 2004 (see Canada-United States Automotive Agreement).
The automotive manufacturing sector plays a vital role in the Ontario economy and while North American auto sales have slumped recently, this has been off-set to some degree by an increase in production GM's Oakville plant.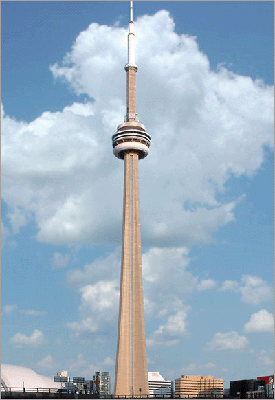 The CN Tower in Toronto is the world's tallest freestanding structure on land
Toronto, the capital of Ontario, is the centre of Canada's financial services and banking industry. Suburban cities in the Greater Toronto Area like Brampton, Mississauga and Vaughan are large product distribution centres and home to large Immigration populations, in addition to having manufacturing industries. The information technology sector is also important, particularly in Markham, Waterloo and Ottawa. Hamilton is the largest steel manufacturing city in Canada and Sarnia is a centre for petrochemical production. Construction employs at least 7% of the work force, but due to undocumented workers, the figure is likely over 10%. This sector has thrived over the last ten years due to steadily increasing new house and condominium construction combined with low mortgage rates and climbing prices, particularly in the Greater Toronto area. Mining and the forest products industry, notably pulp and paper, are vital to the economy of Northern Ontario. More than any other region, tourism contributes heavily to the economy of Central Ontario, peaking during the summer months owing to the abundance of fresh water recreation and wilderness found there in reasonable proximity to the major urban centres. At other times of the year, hunting, skiing and snowmobiling are among the out of high-season draws. This region has some of the most vibrant fall colour displays anywhere on the continent and tours directed at overseas visitors are organized to see them. Tourism also plays a key role in border cities with large casinos, among them Windsor and Niagara Falls which attract many US visitors.
Ontario has the largest economy in Canada. In 2013 it was published that Ontario's Per Capita GDP was C$51,340, while the real GDP was C$537,383.
Transportation
Historically, the province has used two major east-west routes, both starting from Montreal in the neighbouring province of Quebec. The northerly route, which was pioneered by early French-speaking fur traders, travels northwest from Montreal along the Ottawa River, then continues westward towards Manitoba. Major cities on or near the route include Ottawa, North Bay, Sudbury, Sault Ste. Marie, and Thunder Bay. The much more heavily travelled southerly route, which was popularized by later English-speaking United Empire Loyalists and later other European immigrants, travels southwest from Montreal along the St. Lawrence River, Lake Ontario, and Lake Erie before entering the United States in Michigan.
Water
The St. Lawrence Seaway, which extends across most of the southern portion of the province has been a conduit for Canadian Immigration and connects to the Atlantic Ocean, is the primary water transportation route for cargo, particularly iron ore and grain. In the past, the Great Lakes and St. Lawrence River were also a major passenger transportation route, but over the past half century they have been nearly totally supplanted by vehicle, rail, and air travel. There was previously a ferry connecting Toronto with Rochester, New York.
Rail
Via Rail operates the inter-regional passenger train service on the Quebec City-Windsor Corridor. In addition Amtrak rail connects Ontario with key New York cities including Buffalo, Albany, and New York. Ontario Northland provides rail service to destinations as far north as Moosonee near James Bay, connecting them with the south. Freight rail is dominated by the founding cross-country CN and CP rail companies, which during the 1990s sold many short rail lines from their vast network to private companies operating mostly in the south. Regional Commuter rail is limited to the provincially owned GO Transit, which serves a train/bus network spanning the Golden Horseshoe region, its hub in Toronto. The TTC in Toronto operates the province's only subway and streetcar system, one of the busiest in North America. Outside of Toronto, the O-Train LRT line operates in Ottawa with ongoing expansion of the current line and proposals for additional lines.
Air
Lester B. Pearson International Airport is the nation's busiest and the world's 17th busiest, serving as a major Canadian Immigration hub, handling over 30 million passengers per year. Other important airports include Ottawa International Airport and John C. Munro International Airport in Hamilton, which is an important courier and freight aviation centre. Toronto/Pearson and Ottawa/Macdonald-Cartier form two of the three points in Air Canada's Rapidair triangle, Canada's busiest set of air routes (the third point is Montréal-Pierre Elliott Trudeau International Airport). WestJet also operates many flights in the triangle.
Most Ontario cities have regional airports, many of which have scheduled commuter flights from Air Canada, Porter, or smaller airlines and charter companies – most flights from the larger cities such as Thunder Bay, Sault Ste. Marie, Sudbury, North Bay, Timmins, Windsor, London, and Kingston feed directly into Toronto Pearson.
Isolated towns and settlements in the northern areas of the province rely partly or entirely on air service for travel, goods, and even ambulance services, since much of the far northern area of the province cannot be reached by road or rail.
Government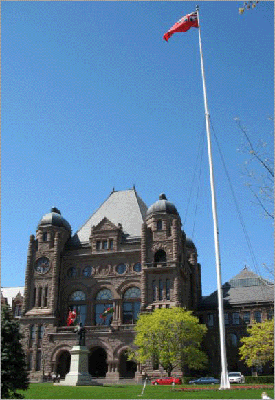 The Ontario Legislature Building at Queen's Park
Ontario is governed by the Legislative Assembly of Ontario that includes 103 seats representing ridings elected in a first-past-the-post system across the province. The legislative buildings at Queen's Park in Toronto are the seat of government. Ontario has traditionally operated under a three-party system. In the last few decades the liberal Ontario Liberal Party, conservative Ontario Progressive Conservative Party, and social-democratic Ontario New Democratic Party have all ruled the province at different times.
Currently Ontario is under a Liberal government headed by Premier Kathleen Wynne.
Federally, Ontario is known as being the province that offers the strongest support for the Liberal Party of Canada. The majority of the party's present 106 seats in the Canadian House of Commons represent Ontario ridings. As the province has the most seats of any province in Canada, earning support from Ontario voters is considered a crucial matter for any party hoping to win a Canadian federal election.