Overview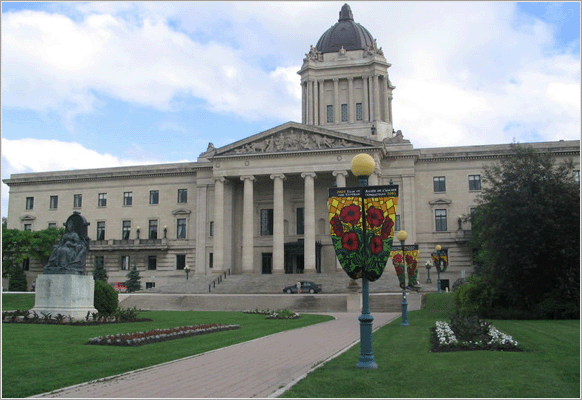 Manitoba Legislature
New immigrants to Canada may be surprised to learn that Manitoba is a unique mixture of people, culture, history, arts; and nature is a source of inspiration and energy making it attractive as an Immigration destination. The warmth of the people and the community spirit nurtures the cultural diversity that has helped build Manitoba's reputation as a welcoming society - small enough to remember its roots and large enough to realize its potential on the world stage.
Propelled by an unmistakable spirit of innovation and possibility, Manitoba businesses are capitalizing on our highly skilled workforce, the unique entrepreneurial energy of its recently immigrated population, untapped renewable energy potential, dynamic economy and low Hydro electric rates to reach their fullest potential. In Manitoba, we are also fortunate to have the opportunity to enjoy many natural wonders, from abundant, captivating cottage country to world-famous ecotourism vacation spots.
IIts capital and largest city (containing over one half the provincial population) is Winnipeg. Other cities with more than 10,000 people are Brandon, Steinbach, Portage la Prarie, Thompson, and Winkler. A person from Manitoba is called a Manitoban.
Geography & Immigration
Manitoba is located in the centre of Canada, although it is considered part of Western Canada. It borders Saskatchewan to the west, Ontario to the east, Nunavut and the Hudson Bay to the north, and the American states of North Dakota and Minnesota to the south.
The province has a coast along Hudson Bay, and contains the tenth-largest fresh water lake in the world, Lake Winnipeg, along with other very large lakes: Lake Manitoba, and Lake Winnipegosis. Manitoba's lakes cover approximately 14.5% or 94,241 km² of its surface area and offer a unique opportunity for property ownership by new immigrants to Canada. Lake Winnipeg is the largest lake within the borders of southern Canada, and is one of the last remote lake areas with intact watersheds left in the world. Large rivers that flow into the east side of Lake Winnipeg's basin are very pristine, with no major developments along them. Many pristine islands can be found along the eastern shore of this grand lake. There are thousands of lakes across the province. Important watercourses include the Red, Assiniboine, Nelson, Winnipeg, Hayes, Whiteshell, and Churchill Rivers.
Most of Manitoba's inhabited south, near or in Winnipeg where most Canadian Immigration populations reside. This south central part of the province is flat with few hills. However, there are many hilly and rocky areas in the province, along with many large sand ridges left behind by glaciers. Baldy Mountain is the highest point at 832 m above sea level (2,727 ft) and the Hudson Bay coast is the lowest at sea level. Other upland areas include Riding Mountain, the Pembina Hills, Sandilands Provincial Forest, and the Canadian Shield regions. Much of the province's sparsely-inhabited north and east lie within the irregular granite landscape of the Canadian Shield, including Whiteshell Provincial Park, Atikaki Provincial Park, and Nopiming Provincial Park. Birds Hill Provincial Park was originally an island in Lake Agassiz after the melting of glaciers.
Climate & Immigration
Manitoba is far removed from the moderating influences of both mountain ranges and large bodies of water and because of the generally flat landscape in many areas, it is exposed to numerous weather systems throughout the year. There are three main climate regions.
The extreme southwestern corner has a semi-arid mid-latitude steppe climate (Koppen climate classification BSk). This region is somewhat drier than other parts of southern Manitoba and very drought-prone. It is very cold and windy in the winter and also the region most prone to blizzards in the winter due to the openness of the landscape. Summers are generally warm to hot, with low to moderate humidity.
The remainder of southern Manitoba, including Winnipeg, which will be of particular interest to potential immigrants, falls in the humid continental climate zone (Koppen Dfb). Temperatures here are very similar to the semi-arid climate zone, but this region is the most humid area in the Prairie Provinces with moderate precipitation.
The central and northern parts of the province - the majority of Manitoba's land area - falls in the subarctic climate zone (Koppen Dfc). This region features long, and extremely cold winters and brief, mild summers, with relatively little precipitation.
Only the southern parts of the province support extensive agriculture. The most common farm found in rural areas is: cattle farming (35.3%) followed by oilseed (25.8%) and wheat farming (9.8%). Around 11% of the farmland in Canada is in Manitoba. The eastern, southeastern, and northern reaches of the province range through coniferous forests, muskeg, Canadian Shield, and up to tundra in the far north.
Ten largest cities by population
City
2011
2006
Winnipeg
1,148,801
641,483
Brandon
46,061
41,511
Steinbach
13,524
11,066
Portage la Prairie
12,996
12,773
Thompson
12,829
13,593
Winkler
10,670
9,106
Selkirk
9,834
9,553
Dauphin
8,252
7,906
Morden
7,812
6,547
The Pas
5,513
5,765
Government & Immigration
Winnipeg is the capital city and has grown rapidly to become a major city in Canada and much of their growth can be attributed to Canadian Immigration. The present Manitoba Legislative Building was eventually built with neoclassical designs, and to accommodate Winnipeg's quickly growing population in the late 1800s and early 1900s. The Legislature was built to democratically represent about 3 million citizens, which was the population that was expected eventually. Greg Selinger is Premier of Manitoba.
English and French are official languages of the legislature and courts of Manitoba, according to the Manitoba Act, 1870 (which forms part of the Canadian constitution): The Manitoba French language Services Policy of 1999 is intended to provide a comparable level of provincial government services in both official languages. Services to the public, including public utilities and health services, official documents such as parking tickets and court summonses, court and commission hearings, and government web sites are accessible in both English and French.
Ethnic origins
Ethnic origin
Percent
English
22.1%
German
19.1%
Scottish
18.5%
Canadian
18.2%
Ukrainian
14.7%
Irish
13.4%
French
13.1%
First Nations
10.6%
Métis
6.4%
Dutch
4.9%
Immigration Profile
Manitoba is a unique and vibrant blend of many heritages that is celebrated in a myriad of ethnic festivals and events. As one of the most ethnically diverse provinces in Canada, Manitoba continues to be a destination for Canadian Immigration, who consistently enrich our multicultural fabric. Today, more than 100 languages are spoken across the province, as Manitobans proudly maintain the traditions of their ancestors. This diverse resource assists Manitoba and its many Immigration communities enter into new global markets and helps to promote the province as a preferred Immigration destination around the world.
As we enter the 21st century, Canadian Immigration and multiculturalism are recognized as vital to our continuing growth and development. The Department's Immigration and Multiculturalism Division actively supports these through programs, services, policies and legislation. Immigration recruitment abroad and settlement services within Manitoba help to attract more newcomers every year to make their home in our multicultural community.
A growing share of immigrants chose to settle in Manitoba, according to 2012 data. An estimated 13,391 new Canadian immigrants settled in Manitoba in 2012, about 5.2% of total Canadian immigrants. This was the sixth-highest proportion in Canada.
Transportation
Transportation and warehousing contributes approximately $2.2 billion to Manitoba's GDP. Total employment in the industry is estimated at 34,500 and are very attractive to entreprenurial immigrants to Manitoba.
Manitoba has a rail, air, road and marine component to its transportation industry.
Manitoba has two Class I railways. They are CN and Canadian Pacific Railway. Winnipeg is centrally located on the main lines of both of these continental carriers and both companies maintain large intermodal terminals in the city. A number of small regional and shortlines railways exist in the province as well including the Hudson Bay Railway, the Southern Manitoba Railway, Burlington Northern Santa Fe Manitoba, Greater Winnipeg Water District Railway, and Central Manitoba Railway. Together, they operate approximately 1,775 kilometres of track within the province.
Winnipeg James Armstrong Richardson International Airport is one of only a few 24 hour, unrestricted airports in Canada, and is part of the National Airport System. It has a broad range of air passenger and cargo services and served over 3 million passengers in 2003. The airport handles approximately 140,000 tonnes of cargo annually. A new airport terminal building is being built and scheduled to be completed by 2009.
Regional air travel is a practical means of populating resource rich regions in the province with Canadian Immigration populations. Eleven regional passenger carriers and nine smaller/charter carriers operate out of the airport, as well as 11 air cargo carriers and 7 freight forwarders. Winnipeg is a major sorting facility for both FedEx and Purolator. It also receives daily transborder service from UPS. Air Canada Cargo and Cargojet Airways use the airport as a major hub for national traffic.
The Port of Churchill, owned by OmniTRAX is Manitoba's window to the Arctic and to the sea. The port of Churchill is nautically closer to ports in Europe than many other ports in Canada. It has 4 deep-sea berths for the loading and unloading of grain, general cargo and tanker vessels. The port is linked by the Hudson Bay Railway (also owned by OmniTrax). Grain represented 90% of the Port's traffic in the 2004 shipping season. In that year over 600,000 tonnes of agricultural product was shipped through the port.
Economy & Immigration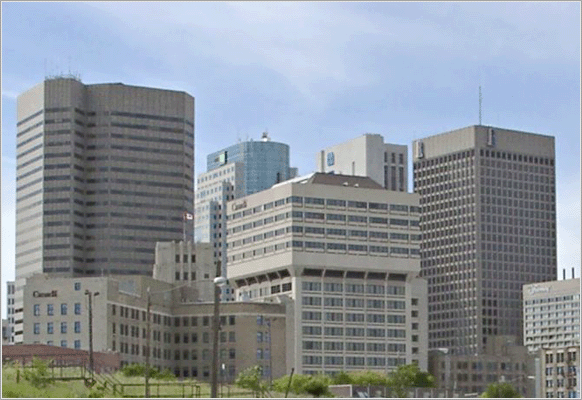 Downtown Winnipeg seen from The Forks.
Jobs are an important draw for Canadian Immigration and Manitoba has a robust economy, including manufacturing, which is Manitoba's largest sector, accounting for about 13% of total GDP, which was $61.3 million in 2013, an increase of roughly 47% from 2005. Top exports commodities include: wheat, nickel, oilseeds, electricity, pork, copper, processed foods, buses and furniture. Manitoba boasts Canada's largest plants for furniture, doors, windows and cabinetry. North America's largest producer of intercity and urban buses. Two of Canada's major financial corporations: Great-West Life and Investors Group. CanWest Global Communications, one of Canada's largest media companies.
Agricultural diversification over the past two decades has substantially altered the structure of the sector. For example, in 2006, hogs (27%) were the largest single source of agricultural market receipts in the province, up from 14% in 1995. In contrast, wheat accounted for 31% of market receipts in 1995 but less than 12% in 2006.
Five of Canada's twenty-five largest employers in for-hire trucking are headquartered in Manitoba and three of Canada's 10 largest employers in the for-hire trucking industry are headquartered in Winnipeg. Much of Manitoba's GDP directly or indirectly comes from trucking. Around 5% or 33,000 people work in the trucking industry and there are incentive and support programs specifically designed to attract those who currently are new Canadian immigrants or who are considering Canadian Immigration; to fill positions in the Trucking industry.
Arts & Culture: A Reflection of Immigration
Manitoba hosts a variety of dynamic arts and culture destinations, many of which can be traced back to Immigration communities in Manitoba; and they are home to a vibrant artistic community that includes The Winnipeg Symphony Orchestra, presenting the best in orchestral music and world-class guest soloists including classical masterworks, pops, concerts for families and the internationally renown New Music Festival.
Centre culturel franco-manitobain and its resident groups promote a vibrant French culture through live musical entertainment, art gallery, restaurant-bar-terrace, workshops, school programming and summer camps. Rainbow Stage produces full-scale Broadway-style musical theatre at Canada's oldest and longest-running outdoor theatre in Kildonan Park.
The Manitoba Children's Museum is home to six exciting galleries. All Aboard invites children to explore the past on a 1952 vintage diesel locomotive and 1910 Pullman passenger coach. Explore technology in Live Wire gallery. In the Tree and Me gallery, preschoolers make discoveries about animals in their natural habitats and climb on a 17-foot oak tree. Dig in the sand and build bridges at WonderWorks - the infrastructure gallery. You're the anchor at your very own newscast in Our TV, a fully operational studio. Take a stroll through the land of fairytales in the Once Upon A Time/Santa's Village gallery. Ride with astronauts in the space shuttle. Create your own music using recycled materials in the Sonic Playground.
For those considering Immigration to Manitoba, it boasts a world class arts scene that includes Canada's Royal Winnipeg Ballet One of Canada's cultural treasures. They present a four-performance season annually. The RWB also presents Ballet in the Park during the summer.
Winnipeg's Contemporary Dancers creates and produces contemporary dance with a view to furthering the art form for professional artists and audiences alike, from fall to spring and includes live performances, lectures and workshops.
The Manitoba Agricultural Museum boasts the largest collection of operating vintage farm machinery in Canada (more than 500 implements, most dating back to the early 1900s, some earlier). The Homesteaders' Village simulates village life in the late 19th century. It includes an 1883 schoolhouse, a post office that once served all of northwestern Manitoba, the typical log houses of the era, an elegant clapboard mansion, a general store, and a railway station.
The National Exhibition Centre in the town centre features travelling exhibitions from major Canadian galleries and museums as well as local displays. Other attractions include The Hillcrest Museum, a 1910 castle-like home housing local artifacts, over 5,000 butterfly and moth collection and the Agricultural Museum.