Immigration Gateway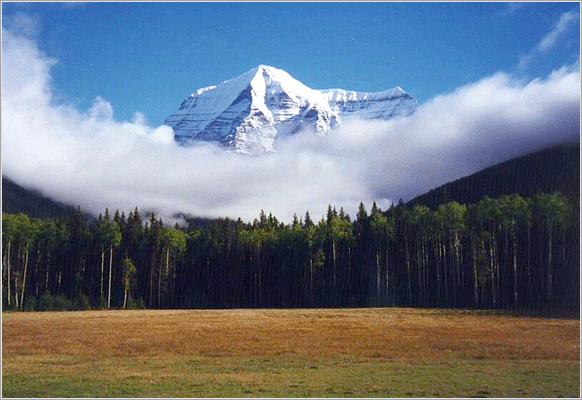 Mount Robson, Canadian Rockies, B.C.
Immigration to British Columbia, or BC as it is known, has been one of the most important contributing factors to its growth over the past century. It is the westernmost of Canada's provinces and attracts many immigrants from Asia and India. It is famed for its natural beauty. If you are considering immigrating to Canada, British Columbia is an ideal. It boasts an diverse climate and culture; with robust economy.
British Columbia is bordered by the Pacific Ocean on its west, by the American state of Alaska on its northwest, and to the north by the Yukon and the Northwest Territories, on the east by the province of Alberta, and on the south by the U.S. states of Washington, Idaho, and Montana.
British Columbia's capital is Victoria, located at the southeastern tip of Vancouver Island. BC's most populous city is Vancouver, which is the primary Immigration gateway to BC and is located in southwest corner of the BC mainland called the Lower Mainland. Other major BC that host significfant Canadian Immigration populations include Surrey, Burnaby, Coquitlam, Richmond, Delta, and New Westminster in the Lower Mainland; Abbotsford and Langley in the Fraser Valley; Nanaimo on Vancouver Island; and Kelowna and Kamloops in the Interior. Prince George is the largest city in the northern part of the province, while a town northwest of it, Vanderhoof, is at the geographic centre of the province.
Ten largest municipalities by population
Community
2011
2006
Vancouver
2,313,328
2,116,581
Victoria
344,615
330,088
Kelowna
179,839
162,276
Abbotsford
170,191
159,020
Kamloops
159,020
92,882
Nanaimo
98,021
92,361
Chilliwack
92,308
82,465
Prince George
84,232
83,225
Vernon
58,584
55,418
Courtenay
55,213
49,214
Immigrants to British Columbia will find the Coast Mountains, Canadian Rockies and the Inside Passage's many inlets provide some of BC's renowned and spectacular scenery, which forms the backdrop and context for a growing outdoor adventure and ecotourism industry. Seventy-five percent of the province is mountainous (more than 1,000 metres or 3,280 feet above sea level); 60% is forested; and only about 5% is arable. The Okanagan area is one of only three wine-growing regions in Canada and also produces excellent ciders, but exports little of either beverage. Those immigrating to Canada from warm climates will enjoy the small rural towns of Penticton, Oliver, and Osoyoos which have some of the warmest and longest summer climates in Canada, although their temperature ranges are exceeded by the even-warmer Fraser Canyon towns of Lillooet and Lytton, where temperatures on summer afternoons often surpass 40°C (104°F).
Much of the western part of Vancouver Island and the rest of the coast as far north as the Alaska Panhandle and south from the Olympic Peninsula to northern California, is covered by temperate rain forest.
Immigration Population
Ethnic origin
Population
Percent
English
1,144,335
25.58%
Canadian
939,460
24.28%
Scottish
748,905
19.36%
Irish
562,895
14.55%
German
500,675
12.94%
Chinese
373,830
9.66%
French
331,535
8.57%
East Indian
183,650
4.75%
Dutch (Netherlands)
180,635
4.67%
Ukrainian
178,880
4.62%
North American Indian
175,085
4.53%
Italian
126,420
3.27%
Norwegian
112,045
2.90%
Polish
107,340
2.77%
Swedish
89,630
2.32%
Welsh
86,710
2.24%
Russian
86,110
2.23%
Filipino
69,345
1.79%
American (USA)
59,075
1.53%
Danish
49,685
1.28%
Métis
45,455
1.17%
Hungarian (Magyar)
43,515
1.12%

Note: The following Immigration population statistics represent both single (e.g., "German") and multiple (e.g., "part Chinese, part English") responses to the 2001 Census, and thus do not add up to 100%. "English", it should be noted, may often be selected on census forms as simply meaning "English-speaking" and may have nothing to do with ethnicity. Likewise "Canadian" is not necessarily associated with any ethnic or racial group, but simply with self-identification as a Canadian, of whatever ethnic backgrounds.

Source: Statistics Canada
Immigration Profile
British Columbia has a very diverse ethnic population as you can see from the Immigration Population chart to the left. BC has a large number of immigrants having lived in the province for 30 years or less. Asians are by far the largest visible minority demographic, with many of the Lower Mainland's large cities having sizable Chinese, Japanese, Filipino, and Korean Canadian Immigration population communities. The Sikh population is also considerable, especially in Surrey and South Vancouver.
British Columbia's population had the second-highest proportion of new Canadian immigrant settlers of all the provinces. About 15.5%, or 200,583, of the 1.3 million new Canadian immigrants who came to Canada between 2008 and 2012 settled in British Columbia. British Columbia was second only to Ontario, where 41% of the Canadian immigrant population settled.
Government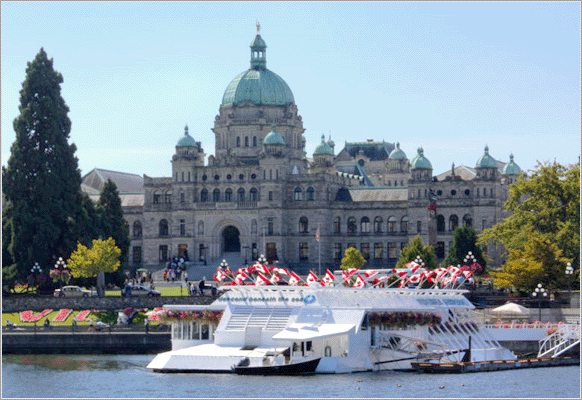 The Legislative Buildings, Victoria, B.C.
Many immigrants who are seeking to immigrate to Canada express an interest in better understanding the government of their new, adopted homeland. BC, as part of Canada reflects its memebership in the British Commonwealth through its Lieutenant-Governor, Judith Guichon, who is the Queen of Canada's representative in the Province of British Columbia. During the absence of the Lieutenant-Governor, the federal Cabinet may appoint an Administrator to execute the duties of the office. In practice, this is usually the Chief Justice of British Columbia.
BC has a 79-member elected Legislative Assembly, elected by the plurality voting system. Currently, the province is governed Premier Christy Clark.
Economy & Immigration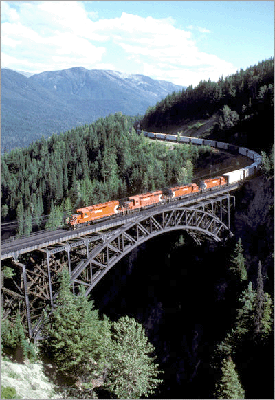 CPR train traversing the Stoney Creek Bridge
British Columbia has a resource dominated economy, centred on the forestry industry, but also with increasing importance in mining. Unemployment is currently quite low at just 5.4%, and there is a considerable demand for skilled workers through Canadian Immigration. Canada Immigration is one of the main means by which new jobs are filled. These are mostly in the construction and retail/service sectors. Currently, the Vancouver region is the third-largest feature film production location in North America, after Los Angeles and New York.
Transportation
Transportation played a major role in British Columbia history and in Immigration to Canada. The Rocky Mountains and the ranges west of them constituted a significant obstacle to overland travel until the completion of the transcontinental railway in 1885. New Westminster.
Water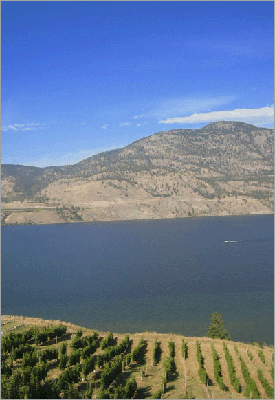 A view overlooking Skaha Lake in the Okanagan Valley, one of the driest regions of the province's interior.
BC Ferries was established as a provincial crown corporation in 1960 and has been a major contributor to Immigration to British Columbia since, providing improved passenger and vehicle ferry service between Vancouver Island and the Lower Mainland as a cheaper and more reliable alternative to the service operated by the Canadian Pacific Railway. It now operates 25 routes among the islands of British Columbia, as well as between the islands and the mainland. Ferry service to Washington is offered by the Washington State Ferries (between Sidney and Anacortes) and Black Ball Ferries (between Victoria and Port Angeles). Ferry service over inland lakes and rivers is provided by the provincial government.
Commercial ocean transport is of vital importance. Major ports are located at Vancouver, Roberts Bank (near Tsawwassen), Prince Rupert, and Victoria. Of these, the Port of Vancouver is the most important, being the largest in Canada and the most diversified in North America. Vancouver, Victoria, and Prince Rupert are also major ports of call for cruise ships.
Air
There are over 200 airports located throughout B.C, the major ones being the Vancouver International Airport (YVR) which has been a primary gateway for Canadian Immigration, the Victoria International Airport (YYJ), the Kelowna International Airport (YLW), and the Prince George International Airport (YXS). Vancouver International Airport is the second busiest airport in the country with an estimated 16 million travellers passing through in 2005.
Recreation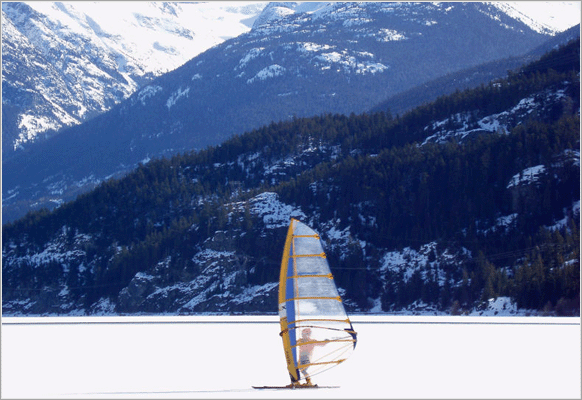 Ice sailing in Whistler
Given its varied mountainous terrain and its coasts, lakes, rivers, and forests, British Columbia has long been enjoyed for pursuits like hiking and camping, rock climbing and mountaineering, hunting and fishing. Those immigrating from densly populated regions will find this varfied and unique environment an opportunity to develop new recreational pursuits.
Water sports, both motorized and non-motorized, are enjoyed in many places. Sea kayaking opportunities abound on the B.C. coast with its fjords. Whitewater rafting and kayaking are popular on many inland rivers. Sailing and sailboarding are widely enjoyed.
Those considering Canadian Immigration, and in particular, BC Immigration will enjoy the temperate winter climate. In winter, cross-country and telemark skiing are much enjoyed, and in recent decades high-quality downhill skiing has been developed in the Coast Mountain range and the Rockies, as well as in the southern areas of the Shuswap Highlands and the Columbia Mountains. Snowboarding has mushroomed in popularity since the early 1990s. The 2010 Winter Olympics downhill events were held in Whistler-Blackcomb area of the province, while the indoor events were in the Vancouver area.
Cross-country bike touring has been popular since the ten-speed bike became available many years ago. Since the advent of more robust mountain bikes, trails in more rugged and wild places have been developed for them. Some of the province's retired rail beds have been converted and maintained for hiking, biking, and cross-country skiing.
Horseback riding is enjoyed by many British Columbians. Opportunities for trail riding, often into especially scenic areas, have been established for tourists in numerous areas of the province.
British Columbia also has strong participation levels by Canadian Immigration populations in many other sports, including golf, tennis, soccer, hockey, Canadian football, rugby, softball, basketball, curling and figure skating. B.C. has produced many outstanding athletes, especially in aquatic and winter sports. Also, today programmes of training and toning systems like aerobics and hatha yoga are widespread. Most communities of several thousand people or more have developed facilities for these.
Maps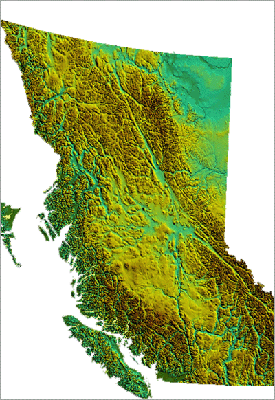 Physical map of B.C.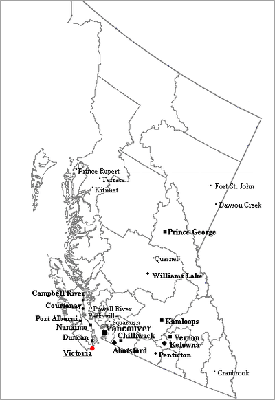 Cities in B.C.