The Job Capital of Canada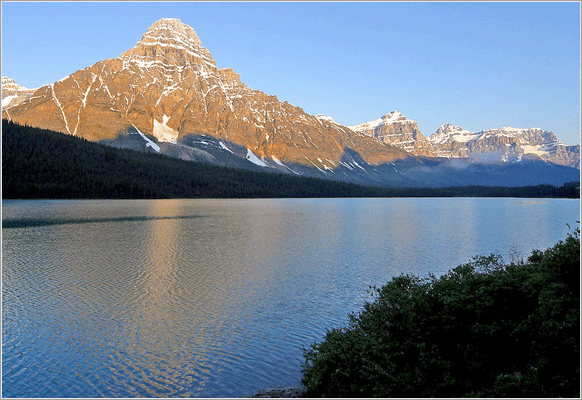 Banff National Park
Alberta has become an increasingly important destination for skilled immigrant workers in Canada. Alberta boasts one of the most robust job creation economies in Canada due to the its main industry, oil and gas.
Alberta is located in Western Canada, bounded by the provinces of British Columbia to the west and Saskatchewan to the east, Northwest Territories to the north, and by the U.S. state of Montana to the south.
The capital city of Alberta, Edmonton has unique progams to promote skilled worker Immigration. I is located just south of the centre of the province. Calgary is a major a major Canadian Immigration destination is a distribution and transportation hub as well as being one of Canada's major commerce centres. Edmonton is the primary supply and service hub for Canada's oil sands and other northern resource industries. According to recent population estimates, these two metropolitan areas have now both exceeded 1 million people, Calgary being slightly more populous than Edmonton. Other major but much smaller municipalities include Red Deer, Lethbridge, Medicine Hat, Fort McMurray, Grande Prairie, Camrose, Lloydminster, Wetaskiwin, Banff, and Jasper.
Geography & Climate:Encourage Canadian Immigration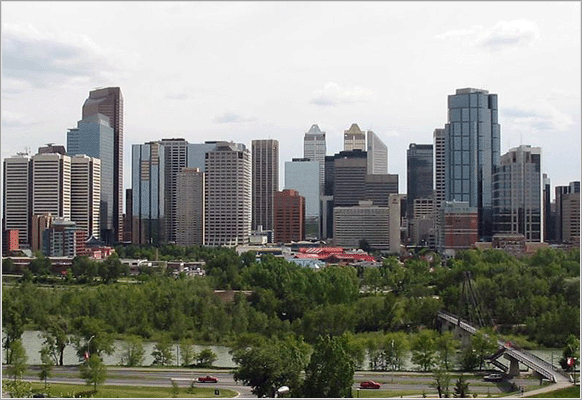 Distribution of cities in Alberta
Alberta is in western Canada and covers an area of 661,190 km² (255,287 mi²).With the exception of the southeastern section, the province is has many lakes and rivers which has proved appealing to many of those considering Canadian Immigration. Alberta boasts many outdoor activities that take advantage of the numerous watersheds, inluding: swimming, water skiing, fishing and a full range of other water sports. There are three large lakes and a multitude of smaller lakes less than 260 km² each. Part of Lake Athabasca lies in the province of Saskatchewan. Lake Claire lies just west of Lake Athabasca in Wood Buffalo National Park. Lesser Slave Lake is northwest of Edmonton.
Ten largest communites
Census Metropolitan Areas
Population
Calgary CMA
1,079,310
Edmonton CMA
1,034,945
Calgary
988,193
Edmonton
730,372
Red Deer
82,772
Lethbridge
74,637
St. Albert (included in Edmonton CMA)
57,719
Medicine Hat
56,997
Airdrie (included in Calgary CMA)
28,927
Spruce Grove (included in Edmonton CMA)
19,496
Those considering Immigration to Canada should note that Alberta extends for 1,200 km from north to south, and about 600 km wide at its greatest east-west extent, it is natural that the climate should vary considerably between the 49th and 60th parallels. It is also further influenced by its elevation since the province is a high plateau. If you are an immigrant to Canada, and accustomed to living at high altitudes, Alberta is an ideal climate. The elevation ranges from about 1,000 metres in the south (Calgary is about 1,000-1,200 metres and Red Deer is about 850 metres) to 650 metres in the north. The presence of a wall of mountains on the west and open prairies on the east also influences the weather.
Northern Alberta is mostly covered by boreal forest and has fewer frost-free days than southern Alberta, which has a semi-arid climate. The southeastern corner of Alberta experiences greater summer heat and lower rainfall than the rest of the province.
If you are considering immigrating to Western Alberta, it is important to note that it is protected by the mountains, and enjoys the mild temperatures brought by winter chinook winds, while southeastern Alberta is a generally flat, dry prairie with some hills, where temperatures are most extreme. They can range from very cold (-35°C (-31°F) or lower in the winter) to very hot (38°C (100°F) or higher in the summer). Central and parts of northwestern Alberta in the Peace River region are largely aspen parkland, and is particularly attractive to those immigrating to Canada who want to take advantage of wide open spaces. This area also is influenced by a biome transitional area that stretches from the prairie to the south and boreal forest to the north. After southern Ontario, Central Alberta is the most likely region in Canada to experience tornadoes. Thunderstorms, some of them severe, are frequent in the summer, especially in central and southern Alberta. The region surrounding the Calgar -Edmonton Corridor is notable for having the highest frequency of hail in Canada, due to the role of orographic lifting from the nearby Rocky Mountains which enhances the updraft/downdraft cycle necessary for the formation of hail.
Ethnic origins
Ethnic origin
Percent
Canadian
27.66%
English
25.61%
German
19.60%
Scottish
18.92%
Irish
15.68%
French
11.31%
Ukrainian
9.71%
Immigration Profile
Alberta has recently developed a new policy to attract and retain more of the total numbver of Canadian Immigration. These Canadian Immigrants will help address skilled worker shortages and support the successful transition of Canadian immigrants into Alberta's economic, social and cultural life. The province aims to attract at least 24,000 immigrants to Alberta each year, up from the nearly 16,500 immigrants who moved here in 2004.
The policy, called Supporting Immigrants and Immigration to Alberta, was released on October 4, 2005 as part of the National, Canadian Immigration Policy. Alberta Employment, Immigration and Industry is responsible for Immigration strategy, settlement programs, language training programs and federal/provincial relations and agreements related to Immigration. AEII is also responsible for the coordination of Government of Alberta Immigration initiatives and programs.
Alberta provides such services as general settlement assistance, that includes information, orientation, interpretation/translation, or referral services for new Albertans through contracts with a network of immigrant-serving agencies. , Language Assessment and Referral programs, where adult immigrants can have their English language skills assessed and to find about available classes and employment readiness programs specifically designed for new immigrants to Alberta. The services include counselling and workshops to assist new immigrants in understanding the Canadian workplace and how to find a job in Canada.
Many people of the Hindu, Sikh, and Muslim faiths also make Alberta their home. North America's oldest mosque is located in Edmonton.
Canadian Immigration & The Alberta Economy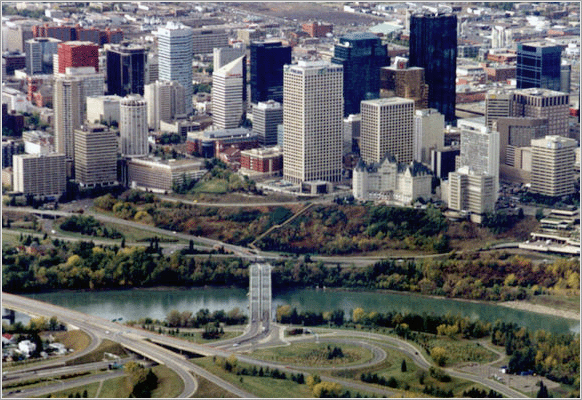 Edmonton
Alberta has become one of the prime desitnations for Canadain Immigration. The economy of Alberta is currently the strongest in Canada, supported by the burgeoning petroleum industry and to a lesser extent, agriculture and technology. The per capita GDP in 2005 was by far the highest of any province in Canada at C$66,279. This was 56% higher than the national average and more than twice that of some of the Atlantic provinces. This deviation from the national average was the largest for any province in Canadian history. Alberta has a number or programs in place to attract skilled Immigration workers.
The Calgary-Edmonton Corridor has been a magnet for Canadian Immigration in recent years and is the most urbanized region in the province and one of the densest in Canada. Measured from north to south, the region covers a distance of roughly 400 kilometres. In 2001, the population of the Calgary-Edmonton Corridor was 2.15 million (72% of Alberta's population). It is also one of the fastest growing regions in the country. A 2003 study by TD Bank Financial Group found the corridor is the only Canadian urban centre to amass a U.S level of wealth while maintaining a Canadian-style quality of life, offering universal health care benefits which are appealing factors for those considering Immigration to Canada and ultimately Alberta. The study found GDP per capita in the corridor is 10 percent above average U.S. metropolitan areas and 40 percent above other Canadian Immigration destinations.
According to the Fraser Institute Alberta also has very high levels of economic freedom which would be very attraractive to seeking entreprenurial Canadian Immigration. It is by far the most free economy in Canada, and is rated as the 4th most free economy of U.S. States and Canadian Provinces.
Agriculture and Forestry: Resource Sector fuels Immigration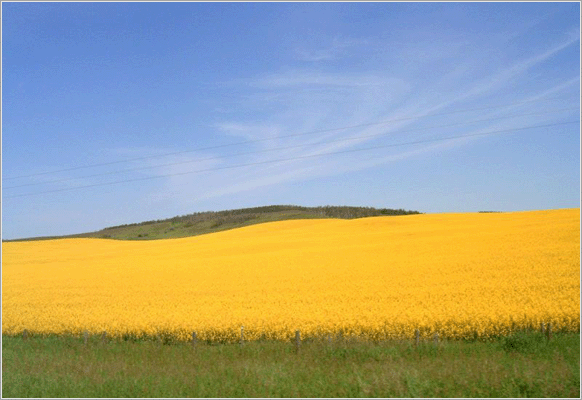 Canola field in central Alberta
Agriculture has a significant position in the province's economy. Over three million cattle are residents of the province at one time or another, and Albertan beef has a healthy worldwide market. Nearly one half of all Canadian beef is produced in Alberta. Alberta is one of the prime producers of plains buffalo (bison) for the consumer market. Sheep for wool and mutton are also raised.Wheat and canola are primary farm crops, with Alberta leading the provinces in spring wheat production, with other grains also prominent.
The vast northern forest reserves of softwood allow Alberta to produce large quantities of lumber, oriented strand board (OSB) and plywood, and several plants in northern Alberta supply North America and the Pacific Rim nations with bleached wood pulp and newsprint.
Government: Immigrating to Freedom of Choice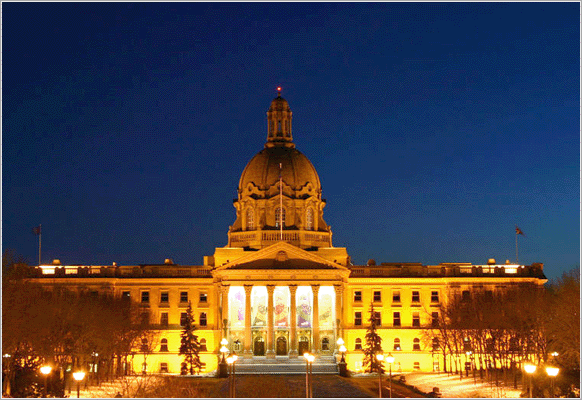 Alberta's Legislative Building in Edmonton
The government of Alberta is organized as a parliamentary democracy with a unicameral legislature. Its unicameral legislature - the Legislative Assembly - consists of eighty-three members.
The current Premier is Ed Stelmach who was elected as leader of the governing Progressive Conservatives on December 2, 2006. Stelmach was sworn in as the 13th Albertan Premier on December 15, 2006.
As is always the case in a parliamentary system of government, the Premier is a Member of the Legislative Assembly, and he draws all the members of his Cabinet from among the Members of the Legislative Assembly.
The City of Edmonton is the seat of the provincial government - the capital of Alberta.
Education: A Right of Canadian Citizenship
Many new immigrants to Canada take advantage of our education system. Alberta's oldest and largest university is Edmonton's University of Alberta. The University of Calgary, once affiliated with the University of Alberta, gained its autonomy in 1966, and is now the second largest university in Alberta. There is also Athabasca University, which focuses on distance learning, and the University of Lethbridge. There are 15 colleges that receive direct public funding, along with two technical institutes, NAIT and SAIT. There is also a large and active private sector of post-secondary institutions, including DeVry University. Students may also receive government loans and grants while attending selected private institutions. For those considering Canadian Immigration to Alberta, there has been some controversy in recent years over the rising cost of post-secondary education for students (as opposed to taxpayers). In 2005, Premier Ralph Klein made a promise that he would freeze tuition and look into ways of reducing schooling costs. So far, no plan has been released by the Albertan government.
Infrastructure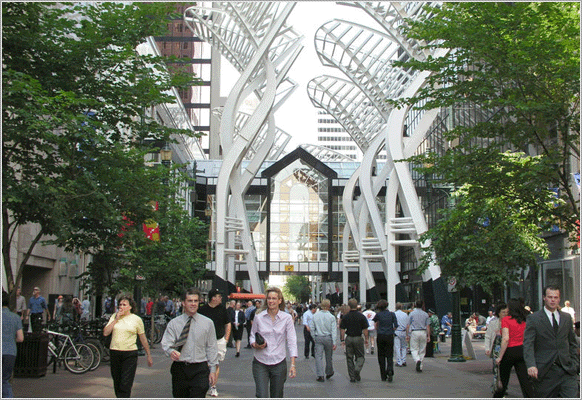 Calgary
Alberta has over 180,000 km of highways and roads, of which nearly 50,000 km are paved. The main north-south corridor is Highway 2, which begins south of Cardston at the Carway border crossing and is part of the CANAMEX corridor.
For those immigrants not accustomed to scenic views and long drives, Alberta will be a unique experience. Alberta two has main east-west corridors. The southern corridor, part of the Trans-Canada Highway system, enters the province near Medicine Hat, runs westward through Calgary, and leaves Alberta through Banff National Park. The northern corridor, also part of the Trans-Canada network but known alternatively as the Yellowhead Highway (Highway 16), runs west from Lloydminster in eastern Alberta, through Edmonton and Jasper National Park into British Columbia. On a sunny spring or fall day, one of the most scenic drives is along the Icefields Parkway, which runs for 228 km between Jasper and Banff, with mountain ranges and glaciers on either side of its entire length.
Canadian Immigration is well served in Alberta, which is connected by air, with international airports at both Edmonton and Calgary. Immigrants can fly in from all over the world to the Calgary International Airport and Edmonton International Airport which are the are the fourth and fifth busiest in Canada respectively. Calgary's airport is a hub for WestJet Airlines and a regional hub for Air Canada. Calgary's airport primarily serves the Canadian prairie provinces (Alberta, Saskatchewan and Manitoba) for connecting flights to British Columbia, eastern Canada, 15 major US centres, nine European airports, and four destinations in Mexico and the Caribbean. Edmonton's airport acts as a hub for the Canadian north and has connections to all major Canadian airports as well as 9 major US airports, 3 European airports and 6 Mexican and Caribbean airports.
There are over 9000 km of operating mainline railway, and many tourists see Alberta aboard Via Rail or Rocky Mountain Railtours. The Canadian Pacific Railway company operates railway freight across the province.
Culture: An Expression of Canadian Immigration
Summer brings many festivals to the province. The Edmonton Fringe Festival is the world's second largest after Edinburgh's. The folk music festivals in both Calgary and Edmonton are two of Canada's largest and both cities host a number of annual multicultural events founded by the many immigrants who have settled in Canada. With a large number of summer and winter events, Edmonton prides itself as being the "Festival City". The city's "heritage days" festival clebrates Canadian Immigration through the 5 participation of over 70 national groups. Calgary is also home to Carifest, the second largest Caribbean festival in the nation (after Caribana in Toronto). The city is also famous for its Calgary Stampede, dubbed "The Greatest Outdoor Show on Earth." The Stampede is Canada's biggest rodeo festival and features various races and competitions like calf roping, and bull riding. These events highlight the province's cultural diversity and love of entertainment. Most of the major cities have several performing theatre companies who entertain in venues as diverse as Edmonton's Arts Barns and the Francis Winspear Centre for Music.
Alberta also has a large ethnic population which has been bult on Canadian Immigration, and who have chosen Alberta as their destination when immigrating to Canada. Both the Chinese and East Indian communities are significant. According to Statistics Canada, Alberta is home to the second highest proportion (two percent) of Francophones in western Canada (after Manitoba). Many of Alberta's French-speaking residents live in the central and northwestern regions of the province. As reported in the 2001 census, the Chinese represented nearly four percent of Alberta's population and East Indians represented better than two percent. Both Edmonton and Calgary have Chinatowns and Calgary's is Canada's third largest. Aboriginal Albertans make up approximately three percent of the population.
The major contributors to Alberta's ethnic diversity have been the European nations. Forty-four percent of Albertans are of British and Irish descent, and there are also large numbers of Germans, Ukrainians, and Scandinavians.
Tourism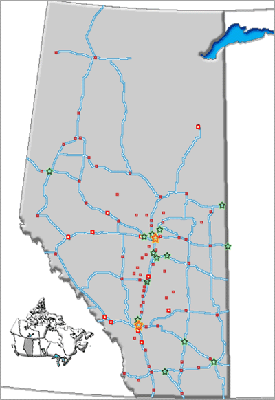 Calgary
Alberta has been a tourist destination from the early days of the twentieth century, with attractions including outdoor locales for skiing, hiking and camping, shopping locales such as West Edmonton Mall, outdoor festivals, professional athletic events, international sporting competitions such as the Commonwealth Games and Olympic Games, as well as more eclectic attractions.
According to Alberta Economic Development, Edmonton and Calgary both host over four million visitors annually. Banff, Jasper and the Rocky Mountains are visited by about three million people per year.
Alberta's Rocky Mountains include well known tourist destinations Banff National Park and Jasper National Park. The two mountain parks are connected by the scenic Icefields Parkway. Banff is located 128km west of Calgary on Highway 1 and Jasper is located 366km west of Edmonton on Yellowhead Highway.
About 1.2 million people pass through the gates of Calgary's world-famous Stampede, a celebration of Canada's own Wild West and the cattle ranching industry. About 800,000 people enjoy Edmonton's Capital Ex (formerly Klondike Days). Edmonton was the gateway to the only all-Canadian route to the Yukon gold fields, and the only route which did not require gold-seekers to travel the exhausting and dangerous Chilkoot Pass.
Located in East-Central Alberta is Alberta Prairie Railway Excursions, a popular tourist attraction operated out of Stettler that draws visitors from around the world. It boasts one of the few operable steam trains in the world, offering trips through the rolling prairie scenery. Alberta Prairie Railway Excursions caters to 10's of thousands of visitors every year.
Alberta is an important destination for tourists who love to ski and hike; Alberta boasts several world-class ski resorts such as Sunshine Village, Lake Louise, Marmot Basin, Norquay and Nakiska. Hunters and fishermen from around the world are able to take home impressive trophies and tall tales from their experiences in Alberta's wilderness.