Quality of Life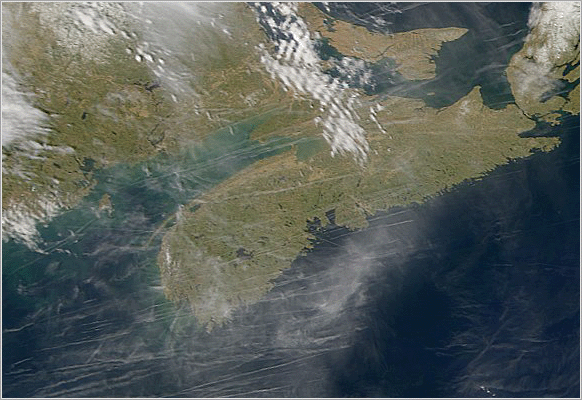 A satellite photo of Nova Scotia
Nova Scotia's beautiful landscape, diverse cultures and rich heritage add tremendous value to our quality of life and position us as a world-class destination for Immigration to Canada.
Nova Scotia is a Canadian province located on Canada's southeastern coast. It is the most populous province in the Maritimes, and its capital, Halifax, is a major economic centre of the region and a gateway for Immigration to Canada since its inception. Nova Scotia is the second smallest province in Canada, with an area of 55,284 km². Its population of 921,727 makes it the second most densely populated province in Canada.
Nova Scotia's economy is traditionally largely resource-based, but has in recent decades, become more diverse; and with a burgeoning economy and a relaxed lifestyle it is an ideal destination for Canadian Immigration. Industries such as fishing, mining, forestry and agriculture remain very important, and have been joined by tourism, technology, film production, music and the financial service industries.
Government
The government of Nova Scotia is a parliamentary democracy. Its unicameral legislature, the Nova Scotia House of Assembly, consists of fifty-two members. Those considering Immigration to Canada may wish to know that all provinces within Canada and Canada itself are members of the British Commonwealth and as such the Queen of England, Queen Elizabeth II, is the head of Nova Scotia's chief executive government. Her duties in Nova Scotia are carried out by the Lieutenant-Governor, John James Grant. The government is headed by the Premier, Stephen McNeil, who took office October 22, 2013. Halifax is home to the House of Assembly and Lieutenant-Governor.
Nova Scotia has elected several minority governments over the last fifteen years. Nova Scotia's politics are divided on regional lines in such a way that it has become difficult to elect a majority government. Rural mainland Nova Scotia has largely been aligned behind the Progressive Conservative Party, Halifax Regional Municipality has overwhelmingly supported the New Democrats, with Cape Breton voting for Liberals with a few Progressive Conservatives and New Democrats. This has resulted in a 1/3 split of votes on a Province wide basis for each party, and difficulty in any party gaining a majority.
Geography & Immigration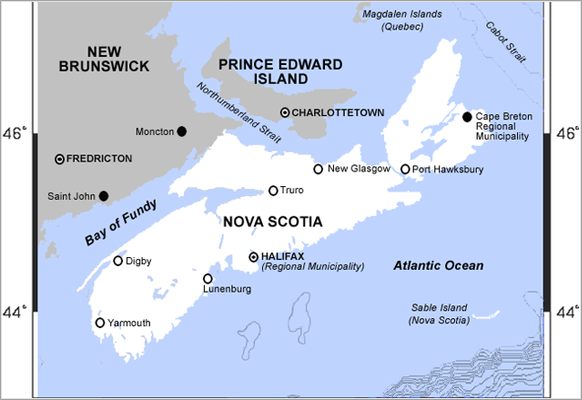 Map of Nova Scotia
The province's mainland is the Nova Scotia peninsula, surrounded by the Atlantic Ocean, including numerous bays and estuaries. Nova Scotia, and in particluar Halifax has been a destination port for immigrants from around the world for over 400 years. Cape Breton Island, a large island to the northeast of the Nova Scotian mainland, is also part of the province, as is Sable Island, a small island notorious for its shipwrecks, approximately 175 km (95 nm) from the province's southern coast. Nova Scotia is Canada's second smallest province in area (after Prince Edward Island).
Ethnic origins
Ethnic origin
Percent
Scottish
29.3%
English
28.1%
Irish
19.9%
French
16.7%
German
10.0%
Dutch
3.9%
First Nations
3.1%
Immigration Profile
Nova Scotia welcomes and embraces immigrants, recognizing the important contributions they make to our social, economic, and cultural fabric. Nova Scotia is facing a number of demographic and economic challenges-slow population growth, an aging population, low birthrate, out-migration of our young people, urbanization, low Immigration numbers-all of which may lead to labour shortages, slowing demand for goods and services, and increasing fiscal pressures in the years to come.
These trends challenge us to finds ways to continue to support the way of life that we enjoy. Canadian Immigration is one way by which Nova Scotia can help meet the increased demand for skilled workers. The Canada 2011 Census counted an estimated 92,990 foreign-born people in the four Atlantic provinces combined. This was an increase of 84,800 immigrants from 2006. Nova Scotia had 48,275 foreign-born persons, the largest percentage of the four provinces.
The province has moved to establish an Immigration Office, consolidating all provincial Immigration activities into one location. Key to our vision is a commitment to continue to engage our partners, and in many cases, government will be joining with organizations that have already shown their dedication to ensuring immigrant successes.
Economy & Immigration
Nova Scotia's economy is predominantly service-based. The province's service sector is proportionally larger than that of Canada, this is due in part to the fact that Nova Scotia is a tourist destination, with its long sandy beaches, spectacular ocean views and great golf. It is almost totally surrounded by water.
The goods producing sector accounts for a large portion of Nova Scotia's economy, this represents Nova Scotia's long established position as the principal financial and commercial service centre for Atlantic Canada and the centre for regional public administration and defence. Those immigrants with experience in the service sector may wish to consider immigrating to Nova Scotia. It includes a wide range of business and personal services, health and educational services, public administration, defence and other federal departments. The goods producing sector includes manufacturing, construction, primary industries, and utilities.
Education & Immigration
A comprehensive range of post-secondary education facilities is available in Nova Scotia and like most maritime provinces it has hosted many students from around the world. They study at these institutions of hire learning, many of whom, decide to immigrate to Canada once they have completed their education. The Nova Scotia Community College system has 13 campuses around the province. Together with the Collège de l'Acadie, they provide education and training programs in the trades, technical, technological and applied arts fields at campuses across the province in both English and French. Programs are designed to help students acquire the skills, knowledge, attitudes and habits necessary to enter and progress in their chosen occupations. Collège de l'Acadie provides community college services for French speaking students through the use of distance education technology and learning centres across the province.
In Nova Scotia and throughout Canada, a degree-granting institution is usually called a university. Our province has 11 universities and colleges, most of which are somewhat small by American or international standards. They include Dalhousie University (the largest), University of King's College, Saint Mary's University, Mount Saint Vincent University and the Nova Scotia College of Art and Design, all in Halifax; Acadia University in Wolfville; St. Francis Xavier University in Antigonish; the Nova Scotia Agricultural College in Truro; Université Sainte-Anne (Francophone, near Digby); and the University College of Cape Breton in Sydney.
Nova Scotia's universities offer a full range of undergraduate and graduate programs in all the liberal arts and basic sciences, business, education, child studies, computer science, engineering, medicine, dentistry, nursing, law, public administration, public relations, oceanography and so forth. Some have developed specialty niches -- for example, the Nova Scotia College of Art and Design, the only degree-granting facility of its kind in the Atlantic region for fine art and graphic design; and the Nova Scotia Agricultural College, which enjoys a special relationship with the Nova Scotia Department of Agriculture.
Arts & Culture
For those immigrating to Canada who have a passion for the arts, Nova Scotia is home to a vibrant arts and culture scene. Symphony Nova Scotia, based in Halifax includes an annual schedule of concerts. The Maritime Fiddle Festival is a performance event staged in Dartmouth and the Scotia Festival of Music is an annual two week chamber music event.
Theatre Novas Scotia supports an organized schedule of theatrical events throughout the season and is a non-profit organization committed to encouraging and supporting all aspects of live theatre in the province.
Other exhibits and museums include the HMCS Sackville, the last corvette, Canada's Naval Memorial, maintained and operated by the Canadian Naval Memorial Trust and open to the public. Maritime Museum of the Atlantic, the Medical History Museum of Nova Scotia, Nova Scotia Museum of Natural History and Nova Scotia's railway heritage all form an important tribute to Nova Scotia's heritage .