Small and Beautiful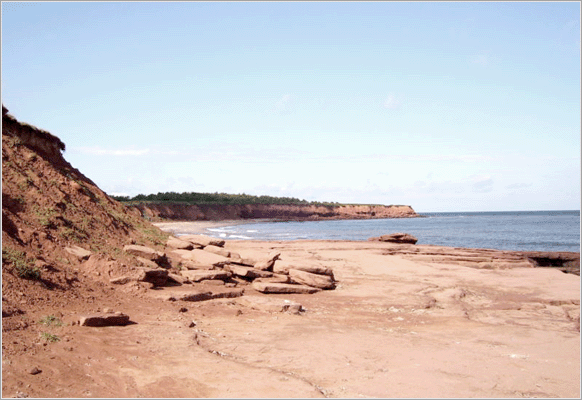 The coast of Prince Edward Island around Cavendish
Those immigrating to Canada may want to consider PEI at a primary destination for quality of life. Its pastoral scenes of rural Canada along with its access to the ocean and close proximity to the New England region of the US make it particularly attractive.
Prince Edward Island, often referred to as PEI is a Canadian province consisting of an island of the same name. One of the Maritimes, the Atlantic Province is the nation's smallest province in land area and population.
Prince Edward Island has 145,855 residents collectively referred to as Islanders. It is 104th largest island in the world, and Canada's 23rd largest island. It is important to note that a modern bridge connecting PEI to maritime Canada has opened this province up to the rest of the world.
Immigration Profile
The foremost labour market issue facing Prince Edward Island is skill shortages or gaps. The pace of economic growth coupled with demographic and other trends are exerting pressure on the provincial labour market.
The Canada 2011 Census counted an estimated 92,990 foreign-born people in the four Atlantic provinces combined. This was an increase of 84,800 immigrants from 2006. Prince Edward Island attracted 7,085 of the new Canadian immigrants.
PEI has implemented a program in partnership with the federal government entitled Co-operation on Immigration. This is a 5-year, agreement that expedites the Immigration to Canada of individuals and their families who meet provincial criteria for initiatives to support: increased business and economic development, the supply of skilled workers, increased population; and achievement of provincial demographic, social and cultural objectives.
Geography
This province is located in the Gulf of Saint Lawrence west of Cape Breton Island, north of the Nova Scotia peninsula, and east of New Brunswick. Its southern shore forms the Northumberland Strait.
The island has two urban areas. The largest surrounds Charlottetown Harbour, situated centrally on the island's southern shore, and consists of the capital city Charlottetown, as well as suburban towns Cornwall and Stratford and a developing urban fringe. A much smaller urban area surrounds Summerside Harbour, situated on the southern shore 40 kilometres west of Charlottetown Harbour, and consists primarily of the city of Summerside. As with all natural harbours on the island, Charlottetown and Summerside harbours are created by rias.
The island's landscape is pastoral: rolling hills, pristine forests, reddish white sand beaches, ocean coves and the famous red soil have given Prince Edward Island a reputation as a province of outstanding natural beauty. The provincial government has enacted a number of laws that attempt to preserve the landscape through regulation, although the lack of consistent enforcement and absence of province-wide zoning and land-use planning has resulted in some aesthetically displeasing development in recent years.
The island's lush landscape has had a strong bearing not only on its economy but also its culture. Author Lucy Maud Montgomery drew inspiration from the land during the late Victorian Era for the setting of her classic novel Anne of Green Gables. Today, many of the same qualities that Montgomery and others found in the Island are enjoyed by tourists, who visit during all seasons. They enjoy a variety of leisure activities, including beaches, various golf courses, eco-tourism adventures, and simply touring the countryside and enjoying cultural events in local communities around the island.
Ten largest municipalities by population
Municipality
2011
2006
Charlottetown
34,562
32,245
Summerside
14,751
14,654
Stratford
8,574
56,314
Cornwall
5,162
4,412
Montague
1,895
1,945
Kensington
1,496
n/a
Souris
1,173
n/a
Alberton
1,135
n/a
Georgetown
Georgetown
n/a
The smaller rural communities as well as the towns and villages throughout the province proudly retain a slower-paced, old world flavour, something that factors heavily into Prince Edward Island's popularity as a destination for relaxation. Most rural communities on Prince Edward Island are based on small-scale agriculture, given that the size of farm properties is quite small when compared with other areas in Canada. There is an increasing amount of industrial farming as older farm properties are consolidated and modernized.
The coastline of the island consists of a combination of long beaches, dunes, red sandstone cliffs, salt water marshes and numerous bays and harbours. The beaches, dunes and sandstone cliffs consist of sedimentary rock and other material with a high iron concentration which oxidizes upon exposure to the air. The geological properties of a white silica sand found at Basin Head are unique in the province; the sand grains cause a scrubbing noise as they rub against each other when walked on. Large dune fields on the north shore can be found on barrier islands at the entrances to various bays and harbours. The magnificent sand dunes at Greenwich are of particular significance. The shifting, parabolic dune system is home to a variety of birds and rare plants and is also a site of significant archeological interest.
Climate
Canada's Garden of the Gulf is surrounded by sea, lying between the Northumberland Strait on the south and west and the Gulf of St. Lawrence on the north and east. With the oceanic influence, the onset of the seasons is delayed several weeks. Winters are rambunctious but, on the whole, milder than in most parts of Canada. Spring is late and cool. Summer is modest and breezy. As for fall, well, Islanders will tell you they favour this season most of all, except when it involves the occasional brush with a dying Atlantic hurricane.
Ethnic origins
Ethnic origin
Percent
Canadian
44.98%
Scottish
38.01%
English
28.74%
Irish
27.87%
French
21.30%
German
4.05%
Economy
The provincial economy is dominated by the seasonal industries of agriculture, tourism, and the fishery. The province is limited in terms of heavy industry and manufacturing. Although commercial deposits of minerals have not been found, exploration for natural gas beneath the eastern end of the province has resulted in the discovery of an as yet undisclosed quantity of gas.
Agriculture remains the dominant industry in the provincial economy, as it has since colonial times. During the twentieth century, potatoes have replaced mixed farming as the leading cash crop, accounting for one-third of provincial farm income. The province currently accounts for a third of Canada's total potato production, producing approximately 1300 million kg annually. Comparatively, the state of Idaho produces approximately 6200 million kg annually. PEI is a major producer of seed potatoes, exporting to more than twenty countries around the world.
Many of the province's coastal communities rely upon shellfish harvesting, particularly lobster fishing as well as oyster fishing and mussel farming.
Transportation
Prince Edward Island's transportation network has traditionally revolved around its seaports - Charlottetown, Summerside, Borden, Georgetown, and Souris - all linked to its railway system, and airports (Charlottetown and Summerside) for communication with mainland North America. The railway system was abandoned by CN in 1989 in favour of an agreement with the federal government to improve major highways. Until 1997, the province was linked by two passenger-vehicle ferry services to the mainland: one, provided by Marine Atlantic, operated year-round between Borden and Cape Tormentine, New Brunswick; the other, provided by Northumberland Ferries Limited, operates seasonally between Wood Islands and Caribou, Nova Scotia. A third ferry service provided by CTMA operates seasonally between Souris and Cap-aux-Meules, Quebec and connects with Quebec's Magdalen Islands.
On June 1, 1997, the Confederation Bridge opened, connecting Borden-Carleton to Cape Jourimain and replacing the Marine Atlantic ferry service. Since then, the Confederation Bridge's assured transportation link to the mainland has altered the province's tourism and agricultural and fisheries export economies.
Education
Prince Edward Island is home to one provincial university, the University of Prince Edward Island (UPEI), located in Charlottetown. The university was formed from the merger of Prince of Wales College and St. Dunstan's University. UPEI is home to the Atlantic Veterinary College, which offers the region's only veterinary medicine program.
Holland College is the provincial community college, with campuses across the province, including specialized facilities such as the Atlantic Police Academy, Marine Training Centre, and the Culinary Institute of Canada.
The Maritime Christian College, also located in Charlottetown, is a small private evangelical Christian college with a university degree-granting charter.
The College of Piping and Celtic Performing Arts of Canada, located in Summerside, specializes in the instruction of bagpipe and other traditional Scottish and Irish performance art such as highland dance.