Downtown to become a fortress for G20 summit
March 12, 2010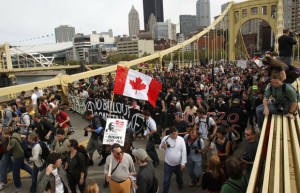 In four months, Steve Bovair's downtown neighbourhood will be transformed from cosmopolitan high life to a barricaded no-man's land.
On a normal day, the network engineer can look outside his 17th-floor window to find a typical urban scene. Cars drift through his intersection at Lower Simcoe St. and Bremner Blvd. Customers dash into take-out restaurants and convenience stores at the base of his building. Construction workers pound away at the beginnings of a new condo tower across the road.
But on June 26, the scene outside his window will resemble an urban combat zone: razor-wire fences lining the streets, helicopters clattering overhead and  potentially, at least  throngs of screaming protestors confronting police officers in riot gear. Bovair lives kitty-corner from the Metro Toronto Convention Centre, picked as the site for the upcoming G20 summit, and for two days in June, a swirling mob of foreign delegates, journalists, security personnel and  potentially, at least  stick-wielding protestors will take over downtown Toronto, literally landing on his doorstep.
Needless to say, Bovair won't be sticking around.
"We've actually made the decision to go away that weekend," said Bovair, who plans to escape with his wife to their summer home near Collingwood. "The easiest thing is to go away … and then come back when all the commotion's over."
Protests and fears of terrorism have become part and parcel of high-profile international meetings like the G20 summit, and Ottawa is funding an RCMP-led task force called the Integrated Security Unit to oversee security for the G20 and the G8 summit, which will take place in Huntsville. Collectively, the two meetings have been pegged the biggest security event to occur on Canadian soil.
"With the G8 and G20 held on the same weekend; it's never happened before anywhere globally," said Michele Paradis, RCMP spokesperson for the ISU, which also includes the Canadian Forces and officers from Toronto, Peel and the OPP.
Security officials have assured Torontonians the convention centre will create a smaller "security footprint" than bigger and more isolated venues like Exhibition Place, which was floated as a possible location. But even though the ISU says it will strive to maintain a "business as usual" atmosphere for downtown Torontonians, barricades are likely to be necessary and several security zones will be established around the downtown core.
Security perimeters are still being mapped out, but the Waterfront Business Improvement Area says police have told them zones could stretch as far north as Queen St. and as far east and west as Yonge St. and Spadina Ave.
Councillor Adam Vaughan, whose ward contains the G20 site, says he wouldn't be surprised to see the security blanket reach as far south as the Gardiner Expressway.
"The space between Bremner (Blvd.) and the Gardiner … my sense is they'll be securing all of that," Vaughan said, adding he anticipates the club district will also face restrictions during the G20 summit.
Security officials promise to communicate details as soon as possible, but many residents and business owners are anxious for information.
"We would like to know as soon as possible so we can make plans," said Elizabeth, owner of Chunky Fries, a food truck that parks in front of the convention centre. She declined to give her last name.
"We don't really know (anything) yet. The city hasn't notified us," she said. "I anticipate we'll be asked to move for security reasons."
But when Pittsburgh hosted the G20 last year, the U.S. Secret Service didn't announce its security boundaries until two weeks prior to the summit. Two visible security perimeters were ultimately constructed around Pittsburgh's conference site, which is in the city's central business district and backs onto the Allegheny River.
In Pittsburgh, the immediate area around the conference site was transformed into a pedestrian-only zone, accessible via two checkpoints, and an outer zone was blocked off to cars. Residents living within the perimeter had to undergo background checks, show ID and pass through metal detectors.
The blocked-off perimeter ultimately spanned an area measuring just over three-quarters of a kilometre by one-quarter of a kilometre; extrapolating to Toronto, this could mean a boundary area that stretches from Spadina Ave. to York St., and from the Gardiner Expressway to Wellington or King Sts.
But in Toronto, G20 organizers will also have to contend with a much more dynamic and complex neighbourhood than Pittsburgh. Complications seemingly loom in every direction:
• To the west is the Rogers Centre, which may fill with more than 40,000 fans if former Blue Jay Roy Halladay comes back to Toronto to pitch against his old team for the first time. Paradis says it's up to the team whether they will reschedule; Blue Jays spokesperson Mal Romanin says he still has to confer with G20 officials but for now, the game is "full steam ahead."
• To the east is Union Station, that frenetic transportation hub that funnels thousands of travelers every day to their TTC, GO Transit and VIA Rail destinations. The ISU isn't planning to shut down the station or cancel routes at this point.
• Overhead, planes fly to and from the island airport. The ISU says they have no plans yet to shut down the airport, although Toronto Port Authority officials say general aviation will probably be "severely restricted."
• Underneath lies one branch of the PATH system, a web of interconnected corridors that links more than 50 buildings and office towers. The ISU says the PATH probably will face "restrictions."
And just south of the convention centre are the former railway lands, now one of the fastest-growing residential areas in the city. In Pittsburgh, the ward that included the conference site had only about 2,700 residents during the last census, in 2000; in Toronto, the railway lands alone contain some 8,000 residential units, according to Vaughan.
"The federal government appears to have paid absolutely no concern to the concerns of the community," said area resident Mike Brock, who lives a few blocks from the convention centre. "I have a 14-month-old daughter. You worry about having to leave and go through crowds and tear gas being thrown. … It just seems like it was a very poorly thought-out location."
Business owner Rosa De Silva fears her clients won't be able to access her hair salon at Wellington and John Sts. if she falls within the security perimeter. And if she finds herself at the edge of the barricades, she worries her storefront could become collateral damage in the crossfire of police and protesters.
"If that kind of thing happens, who's going to pay?" she asks. "The government has to help."
For business owners in Pittsburgh, violence wasn't a problem, but many shuttered for the G20 summit. The ones that stayed open saw their bottom line take a giant hit.
"It was extremely painful," recalls Pittsburgh restaurateur Robin Fernandez, who owns a tapas restaurant that fell within the security perimeter. He said Pittsburgh became a "ghost town" during last year's G20 summit and his restaurant, Bossa Nova, lost between $30,000 and $40,000 in revenue.
"It was very costly for us, to the point where we're still trying to recover," he said. "I really do not know what benefits we will ever reap from hosting that event."
In Toronto, members of the Waterfront BIA wish they had been consulted when the federal government chose their neighbourhood to host the summit. The BIA has committed hundreds of thousands of dollars to hosting the Redpath Toronto Waterfront Festival on June 30, bringing in 12 tall ships from around the world to dock on the central waterfront.
But with the G20 wrapping up just three days prior, a slew of unanticipated problems has cropped up: What if everyone skips town to avoid the summit? Will the RCMP dismantle the barricades in time? Where will ship captains and crew sleep, now that all the hotels are reserved for G20 delegates?
To make matters worse, the festival is now in direct competition with the Pride Parade, which was pushed back a week to accommodate the G20.
"We could have held our event in the fall," says a frustrated Carol Jolly, executive director of the BIA. She was reassured June would be the best time for the festival, but "now we've got all these things that are kind of pushed on us."
Resident Mike Brock feels Ottawa made a huge mistake in plunking such a disruptive and inflammatory event in his community's backyard.
"Everyone knows that these conferences create very, very large protests," he said. "All it takes is 10 or 20 very violent protestors to turn the area into a war zone."
Take our FREE Online Assessment Today!
Socialize with Abrams & Krochak