Canada's prospects outshine realities challenging U.S.
March 15, 2010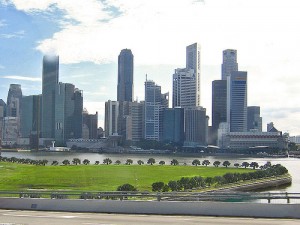 Canadians have long tended to define themselves by what they are not: Americans. As Finance Minister Jim Flaherty prepares to deal with the fiscal cost of the recession, that distinction is taking on new meaning.
Facing the biggest budget deficit since the Second World War and none of the spirit of political compromise necessary to fix it, prospects for the United States. Fiscal reality limits the Obama administration's options, and it remains uncertain whether the economy is strong enough to reverse an unemployment rate
of about 10 per cent without government spending.
As a general rule, what's bad for the United States is worse for Canada. Exports account for about a third of Canada's gross domestic product and more than 70 per cent of those shipments are destined for buyers in the country's southern neighbour. In 1982, the U.S. economy contracted 1.9 per cent, compared with a 2.9-per-cent slump in Canada, according to the International Monetary Fund; in 1991, U.S. gross domestic product dropped 0.2 per cent, compared with a decline of 2.1 per cent in Canada.
But Canada appears destined to do better during this period of American economic woe, which has come to be typified by that stubbornly high unemployment rate and a budget deficit
that is 10.6 per cent of gross domestic product, the highest since the U.S. faced the bill for its participation in the Second World War.
The biggest reason is that Canada's finances are so much stronger. The federal deficit, while a record in nominal terms, is about 4 per cent of GDP. The difference with the U.S. and other industrial countries has captured the attention of international investors, who bought a record amount of Canadian bonds in 2009.
Demand of that kind is lowering federal and provincial governments' borrowing costs, suggesting Canadian taxpayers won't be facing the degree of tax increases or spending cuts coming the way of their American cousins. That leaves Canada in a better position to take advantage of the rebound in the global economy: While the U.S. and other countries will be paying off their debts, Canada will be relatively free to take advantage of the upturn.
"That's a competitive advantage right off the bat," said Peter Hall, chief economist at Ottawa-based Export Development Canada, the country's export credit agency. "On a relative basis, Canadians will be better off."
To understand Canada's competitive advantage, consider the gap between yields on Canadian and U.S. 30-year bonds. The difference, or spread, is currently about 50 basis points, or half a percentage point, in Canada's favour. The average spread since 2000 is seven basis points, according to Mark Chandler, a fixed-income strategist at RBC Dominion Securities Inc. in Toronto. The current spread shows investors are willing to forgo yield for the security of lending money they can be certain will be repaid, something that will make Finance Minister Jim Flaherty's job far easier because he will be able to save billions in interest payments.
"Canada, from a safe-haven perspective, looks good," Mr. Chandler said.
U.S. President Barack Obama's deficit could also help Canadian companies in a more immediate way. Only 36 per cent of the President's original $787-billion (U.S.) stimulus plan has been spent. That means more than $500-billion from that program will be injected into the American economy over the next couple of years, a jolt that should help Canadian exporters.
There's also potential for an additional $100-billion in stimulus spending, which Mr. Obama pledged in his budget last month. That money has an even greater chance of reaching Canadian companies because differences over the Buy American provisions that were attached to the original stimulus program have been ironed out.
Take our FREE Online Assessment Today!
Socialize with Abrams & Krochak