Refugee wannabe wants more time.
November 29, 2010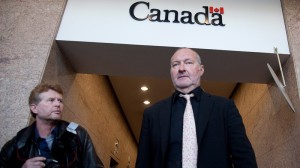 Randy Quaid needs more time to review bulging Canadian government files on him that are already
eight-centimetres thick, an immigration hearing was told Tuesday.
Quaid's Vancouver lawyer, Catherine Sas, said the number of pages is growing so rapidly she can't keep up.
"The government's disclosure has been voluminous," said Sas.
The government, which wants to deport Quaid, has filed documents related to vandalism
charges the American actor is facing in the U.S.
The files have a direct bearing on whether Quaid should be deported on the grounds of
"serious criminality" outside of Canada.
"I am not opposed to allowing Mr. Quaid time to prepare," said lawyer Jim Murray,
acting for the Canadian government's Ministry of Public Safety.
Quaid says he is the victim of "Hollywood star whackers," whom he says are out to
get him and his wife, Evi Quaid.
Outside the hearing, Evi Quaid claimed a "murderous" U.S. lawyer is out to "kill" them.
But Evi Quaid was unable to explain why the "star whackers" wouldn't simply carry out their
plan in Canada if the Quaids were allowed to stay.
Randy Quaid, meanwhile, breathed a visible sigh of relief as King agreed he could have
another month to prepare his case.
"It's not our first Christmas in Vancouver. I'm looking forward to it," Quaid beamed.
"I hope it snows."
The parties are to attend a scheduling conference on Dec. 22.
The government has dropped its objections to Evi Quaid's presence because her father
was born in
Canada. kspencer@theprovince.com
twitter.com/kentspencer2