Harper tours Canada's relief operation in Haiti
February 16, 2010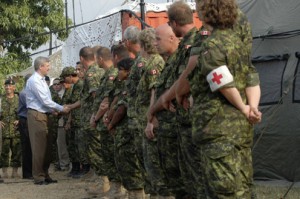 Prime Minister Stephen Harper today got a primer from Canadian troops on what they're doing in earthquake-shattered Haiti.
What he saw in the small city of 40,000, on the south coast of the country, was an area largely stabilized by the work of Canadian soldiers and medics.
Harper, wearing khakis and a long-sleeve shirt, appeared hot in the sweltering Haitian sun as he toured a medical clinic set up by Canada's Disaster Assistance Response Team at Jacmel's small port.
Walking from tent to tent, he met one older Haitian patient and two young Haitian girls wearing dresses.
The clinic no longer tends to patients with serious fractures and wounds stemming from the quake. Now local residents are coming for all sorts of medical ills.
However, improbable cases have emerged. One medical team doctor, Capt. Rob Ennis, described how a 1-month-old baby was pulled from rubble 17 days after the quake; her parents and siblings all died. Ennis said it was possible for a baby with lots of baby fat to survive that long.
The medical team revived the severely dehydrated baby. "It's the worst case I've ever seen in my life," said Ennis, an emergency physician from Bishop's Falls, Nfld.
Harper also toured a DART water purification facility. After tasting a sample of the water, he said, "It's very good—I approve."
Jacmel, unlike cities north of here, was not as hard hit by the Jan. 12 quake that killed 217,000 and wounded 300,000 others. While about 20 per cent of buildings were damaged or destroyed in Jacmel, up to 90 per cent were in Léogâne.
Harper will also be visiting Léogâne during the course of the day where he'll tour a quake-demolished school and see a Canadian Forces field hospital.
Take our FREE Online Assessment Today!
Socialize with Abrams & Krochak