Canada considers fast-tracking Haitian immigration
January 15, 2010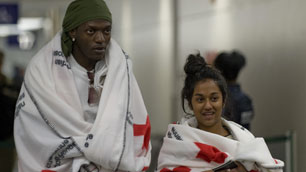 The Canadian government says it is looking into a plan to help fast-track immigration from Haiti in the wake of the earthquake that has crippled the Caribbean country.
Prime Minister Stephen Harper said Thursday he and Immigration Minister Jason Kenney have been discussing ways to ease immigration and refugee rules to allow more Haitians into Canada quickly.
Opening up the process "will be something the government will be addressing in the next couple of days," he said while stopping at the Ottawa Red Cross office to make a donation.
The first three military air transports arrived in Montreal from Haiti early Friday morning, carrying 272 evacuees who had been selected by staff at the Canadian Embassy for transport, Foreign Affairs Minister Lawrence Cannon said Friday.
The latest Canadian consular information has confirmed four Canadians have died, 13 are reported injured and an additional 550 have been located, Cannon said. About 1,415 Canadians living in the affected area are still missing, he said.
About 6,000 Canadian citizens live in Haiti, but only 700 were registered with the embassy in Port-au-Prince, said Foreign Affairs Minister Lawrence Cannon.
The Canadian Embassy has continued to be a refuge for citizens, however, and many are being sent to Santo Domingo in the Dominican Republic for transport back to Canada.
But as the situation for people in Haiti worsens, the government is expected to look at a plan that would allow Haitians with Canadian relatives to also come to Canada.
Chantal Barratteau, a Haitian community organizer in Montreal, says deciding who can come and who can stay will be a difficult task.
"How can you choose who to bring here?" she asks. "I mean if I could choose, I would bring my family if they are hurt, and then my neighbours, and then my family's friends and so on."
Thousands of Haitians spent another night outside following the 7.0- magnitude quake that hit the country this week. Many won't return to their homes, fearing that continuing aftershocks will knock down already weakened structures.
Take our FREE Online Assessment Today!
Socialize with Abrams & Krochak