December 21, 2009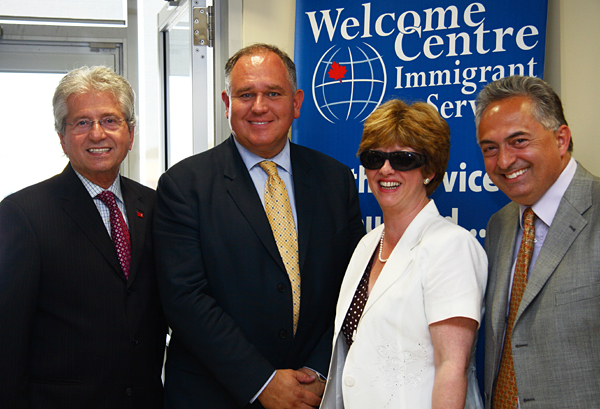 The Government of Canada is investing in four new York Region Welcome Centres to help immigrants settle and integrate into Canada, Newmarket-Aurora MP Lois Brown announced today.
The Welcome Centre is a proven and successful model for delivering services to newcomers. A Welcome Centre in Vaughn, funded by Citizenship and Immigration Canada (CIC), has helped more than 6,000 immigrants since opening its doors in June 2007.
"The Government of Canada is working to help newcomers and their families succeed," said MP Brown, on behalf of Citizenship, Immigration and Multiculturalism Minister Jason Kenney. "Building on the success of the Vaughan Centre, the new facilities will provide an innovative way to help newcomers get access to a full range of settlement services and expertise under one roof."
With CIC funding of $19.7 million (2009-2011), new Welcome Centres in Markham North, Markham South, Newmarket and Richmond Hill are scheduled to open in summer 2010. The number and location of the Centres were determined following an in-depth study which showed a pressing need for additional services for the region's rapidly growing immigrant population. Between 2001 and 2006, York Region welcomed 46,460 immigrants, making it one of the fastest growing areas in Canada.
"Ontario's future economic and social prosperity depend on our ability to integrate newcomers into the community and the workplace," said Ontario Minister of Citizenship and Immigration, Michael Chan. "Helping them succeed is an investment that yields benefits for all Ontarians."
As well as offering a "one-stop shop" approach to CIC-funded settlement services, such as language classes and job search workshops, the new Welcome Centres will also offer specific programs for newcomer youth and seniors.
"As Chair of the Inclusivity Action Plan and mayor of Canada's most ethnically diverse community, I am extremely pleased that these new Welcome Centres will provide the much needed services our new Canadians need to succeed," said Mayor Frank Scarpitti of Markham. "I applaud both the federal and the provincial governments for moving forward on such an important initiative."
The Welcome Centres will be managed by local community organizations:
– Markham North: Job Skills Employment and Business Programs and Supports
– Markham South: Centre for Information and Community Services
– Newmarket: Social Enterprise for Canada
– Richmond Hill: Catholic Community Services of York Region
Funding for the Welcome Centres is being provided under the Canada-Ontario Immigration Agreement, which committed $920-million over five years to help newcomers integrate into Ontario communities.
Take our FREE Online Assessment Today!
Socialize with Abrams & Krochak