Olympic torch light hearts on fire here and across this land
December 30, 2009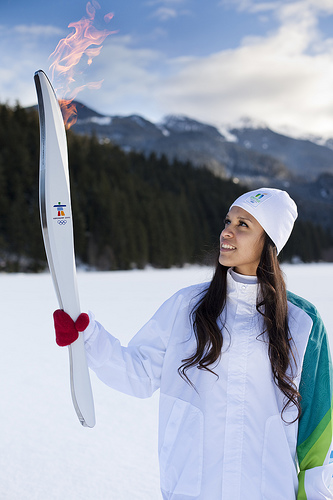 There was a remarkable outpouring of emotion in Stratford, Tavistock and Shakespeare on Sunday for the arrival, passing and departure of the Olympic torch.
So much so that we can beat our chests a little with civic pride in the belief that what happened here was a totally unique experience specific to this area.
It wasn't, of course, and there have been similar, albeit not identical, reactions across the country as the torch enters and leaves communities both big and small.
That said, Day 59 will be remembered for a long time as the Market Square was packed with people and the city streets along the route were lined with everyday people as well as family and friends of torchbearers.
On the surface, one wonders what all the fuss is about, but that can be said about many things that pull at the heartstrings.
Maybe it's because the Olympic Torch Relay appeals to us on several levels — one, as a localized community; two, as proud Canadians and, three, the realization that it will probably never happen again.
The torch run celebrates local accomplishments whether they be on the local or national scale. That was evidenced by the class from Stratford Central Secondary School that won the right to carry the torch after putting together a project that made life at Stratford's oldest school a little better for those less fortunate.
Julia Wilkinson, Canada's swimming sweetheart from the Beijing Olympics, had the signature leg of the torch relay here and lit the cauldron at city hall.
The incident in Guelph yesterday not withstanding, the Olympic flame also appeals to our national pride, and that's why Maple Leafs abound and even impromptu renditions of "O Canada."
There is also a sense of history too as it is very unlikely that an Olympic torch will pass through Stratford again in our lifetime. It is the second time it has gone through here in a generation, having gone through in 1988 before the Calgary Games, but there is no assurance it will happen again.
There is, of course, the mystical connection the torch has with the birthplace of the Olympics in Greece and to the opening ceremonies of the Games in Vancouver in February. It will be remarkable to see the flame lighting the cauldron at the XXI Olympic Winter Games in Vancouver when we know the same flame passed through our communities here.
Perhaps the Vancouver Olympics organizing committee knew there would be reactions like this across the country. One assumes Coca-Cola and RBC knew that as well as they signed on as corporate sponsors for such a feel-good event.
Regardless, it was a great day for the communites that experienced the torch relay Sunday. What is more remarkable is that same feeling is being experienced from sea to shining sea.
Take our FREE Online Assessment Today!
Socialize with Abrams & Krochak