Indian police uncover fake Canadian visa scam
November 6, 2009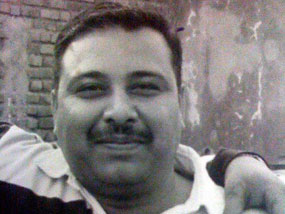 Anil Kumar allegedly heads a ring that may have cheated victims out of more than $650,000.
TORONTO STAR/NEW DELHI POLICE
New Delhi – Indian police say they have cracked a ring of criminals who conspired to operate one of the biggest fake visa scams in years involving Canada.
The alleged crooks lurked on the leafy streets outside Canada's diplomatic mission in New Delhi, as well as in the office of a bogus travel and tourism company in Punjab, a state in northwestern India.
The Star has learned Indian police have made three arrests in New Delhi and two more in Punjab, charging five men with making false documents, passing fake documents as genuine and criminal conspiracy. Police are still searching for at least three others.
The fake visa service charged Indians as much as $21,000 to obtain bogus visas, police said, adding they believe the ring operated through a company called Kaavi Tour and Travels in Chandigarh, Punjab's capital city.
Documents and files seized by police indicate the ring, allegedly headed by a man named Anil Kumar – who has at least three aliases – may have cheated victims out of more than $650,000. That would make it one of the biggest visa fraud operations police here have exposed in years.
"People in Punjab are so desperate to get to Canada for work, that's why they fall into this," New Delhi police sub-inspector M.P.
Saini said.
Canadian High Commission staff say privately that immigration consultants such as Kumar continue to be a vexing problem. Immigration agents are not regulated and the business has become huge, particularly in Chandigarh, where Canada is the only foreign country with a visa-granting office.
"This latest one is big," said a Western diplomat familiar with the Kumar case. "It's a huge ball of yarn. We keep unwinding it and finding more leads to more victims and more crooks."
New Delhi police said they learned about Kumar's alleged criminal operation on Oct. 13 when a 22-year-old Punjabi man named Sukhdeep Singh filed a complaint, saying that he and three relatives had been fleeced out of $32,000.
In late August, Singh went to the Canadian High Commission in New Delhi to apply for a visa to Canada. He said a man named Sandeep Kaul approached him on the street outside the high commission and told him he could guarantee Singh a visa for
$16,000.
Singh and three relatives paid Kaul a collective $32,000 – half his asking price of $64,000 – in advance. A day later, Kaul filed
visa applications on behalf of Singh and his relative. When an immigration agent denied those applications, Kaul put Singh and the others in contact with Kumar, the scam's alleged ringleader in Punjab.
Singh and his relatives were later told Kumar has secured visas for each of them as promised and, indeed, they were given their passports with what appeared to be visas. But Singh learned the visas were fake after taking them to the Canadian mission in Chandigarh to confirm their authenticity.
Instead of paying the remaining $32,000, Singh called police, who set up a sting operation.
Kaul and two other Delhi men, Jassi Khassria and Lakhander Singh, were arrested in New Delhi near the Nehru Park metro station as they waited, police say, for Singh to show up with their money.
Police raided Kaul's apartment and discovered an embossing machine, colour photocopier, fake income tax returns and school records – one document the Star reviewed was an "Employemant Agreement" with an Alberta company called "IS2 Staffing Services" – that probably would have been used to try to obtain visas.
Police continue to hunt for Kumar.
Roughly 30 visa applications have been linked to Kumar, who used the same mobile phone number as a contact on various applications.
Kaul and the other men have not yet had bail hearings or submitted their pleas.
Their next court appearance is Nov. 14. The five are being held at New Delhi's Tihar Jail and face at least seven years in prison if convicted.
Take our FREE Online Assessment Today!
Socialize with Abrams & Krochak