Cirque founder arrives at space station
October 7, 2009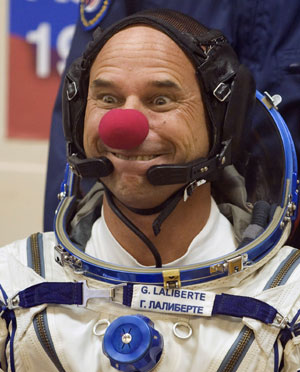 He wore an ear-to-ear grin and his signature clown nose. Guy Laliberté, Canada's first space tourist, greeted Earth from his orbital outpost early this morning after successfully arriving at the International Space Station. Looking chipper as he floated alongside the station's astronauts, Mr. Laliberté waved and chatted with his wife and children in a press conference with Russian Mission Control outside Moscow. His Russian spacecraft successfully docked at his home-away-from-home after a two-day trip from Earth. Asked by ground control how he was feeling, Mr. Laliberté responded: "Pretty good, actually." He joked that he was happy to be there but wouldn't be staying for months. Mr. Laliberté, a Quebec-born billionaire and self-described first clown in space, docked smoothly at the station, 350 kilometres above Earth. The hatches later opened and he boarded, smiling broadly, with his Russian and American crewmates.
The voyage marks the fulfilment of a personal dream for Mr. Laliberté, a onetime stilt walker who went on to found one of the most successful entertainment enterprises on Earth, the Cirque du Soleil. Mr. Laliberté, who spent five months in training before powering off on the Russian spacecraft with his two co-travellers, will be at the space station for 10 days. He's using the sojourn to promote his clean-water foundation and orchestrate a live show back on Earth next week. Billed as the "first social and artistic mission to be carried out from space," the show will be presented in 14 cities around the world and feature notable earthlings such as U2, Peter Gabriel and former U.S. vice-president Al Gore.
Mr. Laliberté isn't the only Canadian aloft these days. When he enters the space station he will join astronaut Robert Thirsk, who is on his 129th day of a six-month mission at the space station. Mr. Thirsk is conducting experiments as part of Canada's first long-duration space mission. Not everyone is enamoured with Mr. Laliberté's trip. Prof. Yves Gingras, who holds the Canada Research Chair in the history and sociology of science, says Mr. Laliberté's mission underscores the "scientific uselessness" of the space station. The costly outpost has limited room, and the billionaire is taking up a spot that could have been filled by a scientist, he said. "I have nothing against Mr. Laliberté. He can do what he wants with his millions," said Prof. Gingras, who teaches at the University of Quebec in Montreal. "But we didn't build the space station so we could say, 'Great! Let's send a billionaire up there!' By taking him there, it just confirms what many critics are saying: That there is no science taking place there. This further undermines its scientific credibility." But experts say Mr. Laliberté is merely following in the footsteps of other space-bound entrepreneurs – he is the world's seventh paying space sightseer – in putting his fortune into fulfilling his personal ambitions.
His ticket to ride aboard Russia's Soyuz rocket cost $35 million. Unlike his space-tourist predecessors, however, he is not a "geek," said Keith Cowing, editor at NASA Watch web site. "He's the first person whose sole claim to being there is that he's a performance artist," Mr. Cowing said. "He was amazingly successful at it, and that's what gave him the resources to get there." Though deep pockets are a prerequisite, it also requires determination and rigorous training, he added. "It's not like he decided to go on a cruise. You've got to have this tenacity to go." Accompanying Mr. Laliberté for his two-day trip to the space station were astronauts Maxim Surayev of Russia and Jeffrey Williams from the United States. Mr. Lalibertés trip coincides with the 25th anniversary of Canada's presence in space. On Oct. 5, 1984, Marc Garneau, now a Liberal MP, blasted off on the Space Shuttle Challenger from the Kennedy Space Center in Florida and became the first Canadian in space.
Socialize with Abrams & Krochak
AKCanada – http://www.akcanada.com
Facebook –  http://www.facebook.comAKCanada
YouTube –   http://www.youtube.com/abramskrochak
Twitter-       http://www.twitter.com/abramskrochak