Laliberte calls 'social' space mission a success
October 13, 2009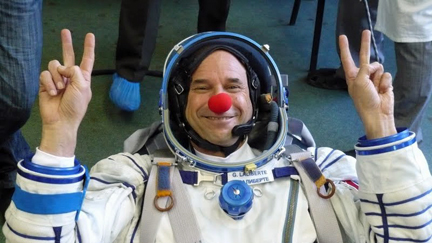 Cirque du Soleil founder Guy Laliberte said Tuesday his mission was accomplished after a 10-day trip to the International Space Station where he hosted a global web broadcast that featured rock stars and politicians.
The Canadian billionaire, dubbed the first clown in space, said his $35 million (U.S.) trip was an effective "marketing tool to put the One Drop Foundation on the map." The non-profit group promotes access to clean water worldwide.
Among those appearing on the Oct. 9 broadcast from Earth were former U.S. vice-president Al Gore, U2 and Shakira. Laliberte had billed his trip into space as a "poetical social mission."
"Mission accomplished," Laliberte told reporters at the cosmonaut training centre outside Moscow. "I still have to evaluate the impact internationally, but so far it looks like a great success."
The one-time stilt-walker and fire-eater, who wore a bulbous clown nose during his stay aboard the International Space Station, said he experienced only one scary moment during the his return trip to Earth, as the Soyuz capsule re-entered the atmosphere and plunged toward the planet.
Laliberte landed in the barren northern steppe of Kazakhstan on Sunday with NASA astronaut Michael Barratt and Russian cosmonaut Gennady Padalka, who spent six months aboard the space station.
At Tuesday's news conference, Barratt pointed out that he was for a time one of two physicians aboard the orbiting laboratory. "Having two doctors aboard was a bit dangerous for the crew," he joked in Russian.
Padalka jokingly told reporters that the crew aboard the space station enjoyed "complete freedom and democracy, except for anarchy," during Laliberte's stay there.
"Surprisingly, everything went smoothly," he said adding that the crew ate lunch in the Russian segment of the space station and dinner in the U.S. segment.
The mammoth station consists of 10 modules built by the United States, Russia, Canada, Japan and the 18-member European Space Agency.
Laliberte may be among the last space tourists for several years, with NASA planning to retire its shuttle fleet next year. After that, it would rely on Russia to ferry U.S. astronauts to the station – meaning fewer extra seats for trips to the orbiting lab.
"The crew now consists of six people, and all the seats have been taken by professional cosmonauts," the head of the cosmonaut training centre, Sergei Krikalyov, said Tuesday.
In June, Google co-founder and Russian native Sergei Brin said he paid $5 million to reserve a flight in 2011 to the space station.
Quebec-born Laliberte, 50, founded Cirque du Soleil in 1984, and is worth an estimated $2.5 billion.
He is the second of three Canadians to orbit the Earth in the same year. Robert Thirsk has been aboard the space station since May, and Julie Payette was there in July.
Socialize with Abrams & Krochak
AKCanada – http://www.akcanada.com
Facebook –  http://www.facebook.comAKCanada
YouTube –   http://www.youtube.com/abramskrochak
Twitter-       http://www.twitter.com/abramskrochak